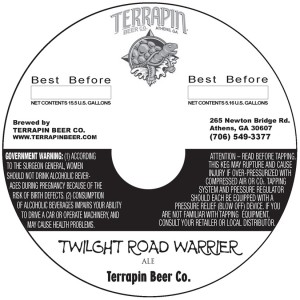 Terrapin Brewing is releasing a very small batch kolsch, with the first kegs tapping today.  The beer is Twilight Road Warrior Kolsch, brewed in honor of the Athen's Twilight Criterium, a professional bike race held in downtown.
The first of the few kegs produced will tap today at Classic City Brewfest in Athens.   The rest will be available at select places during the Twilight.  Spike Buckowski, brewer at Terrapin tried to mimic the exact process and ingredients that make German style kolschs great.   Proceeds from the beer sales benefit the Twilight Foundation which oversee's the race.
There will be a special after hours tour & fundraising party at Terrapin benefiting the Twilight.  For more info check out Online Athens.