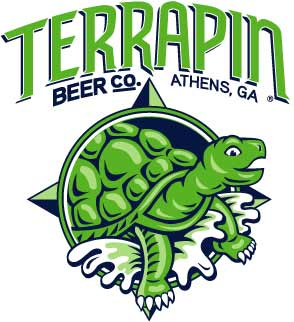 Terrapin Brewing has enjoyed pretty much exponential growth since their inception in 2002.  Here in 2011, the brewery has a strong demand in the markets they are currently in.   How much demand?
BSJ interviewed John Cochran, Co-Founder of Terrapin.  Here's what's coming up with our favorite turtle:
Distributor have but in orders for 30,000 barrels, when Terrapin can only produce just shy of 20,000.  A great situation to be in.   With this in mind, the the brewery will not be entering an new markets in the next 2-3 years.  The next few years will be dedicated to meeting demand.
In the fall, when money becomes available, the brewery plans to purchase some more fermenters.
 What's up on the beer front? 
In 2012, Gamma Ray and Rye Squared will be going away.  Both those beers are a part of the Monster Beer Tour 4pks.  They will be replaced with new offerings to be announced.
The brewery has some red wine barrels, and is toying with the idea of a barrel aged Monk's Revenge next year.
 Continue dreaming about the re-release of Depth Charge.
Hopzilla, the hoppy imperial IPA Side Project from 2010 will return in 2012 in 4 packs. (Monster Beer Tour)
Terrapin has never released a barleywine, one is planned for the future.
The next Side Project (#16) will indeed be dubbed Flux Capacitor.  Style has yet to be determined.  Still shooting for the end of the year….
The recent BFM/Terrapin collab didn't come out exactly as the brewers envisioned.  Another batch on the way.  Plans are being made for the current batch. (More barrel aging etc.) Bottles still on the way to the U.S.