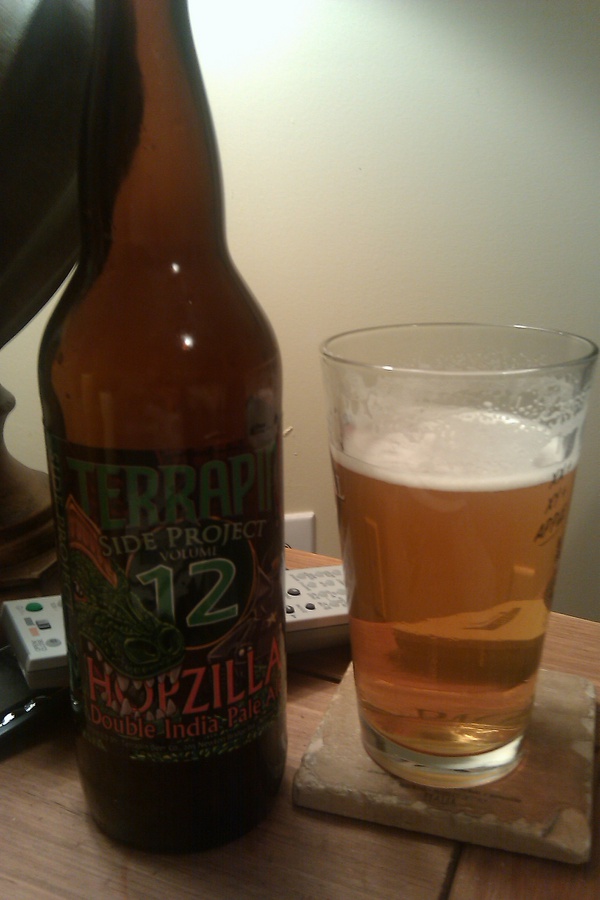 The bottles of the latest Side Project from Terrapin Brewing has arrived! This piney, grapefruity bottle of tasty made it's Atlanta debut at Leon's last week, and saw a tap handle last night at Cypress Street. Here's a quick flyby –
Style: Imperial IPA
Hops: Bravo, Chinook, Centennial and Citra (dry)
Malts: Maris Otter
10.7% ABV
130 IBU's
Spikes Description:
Terrapin "Side Project" number 12 is none other than the fearless "Hopzilla" Double I.P.A.This Hoptastic creature clocks in at 110 IBU's and has all the hop explosion of a B-Rate monster movie.
Made with 100% Maris Otter malt to back up the barrage of hop bitterness, flavor and aroma, this beast knows no boundaries. With all of this hoppy goodness packed into one beer, we wouldn't have called it by any other name.
Thanks @jbyce for the beer pic!