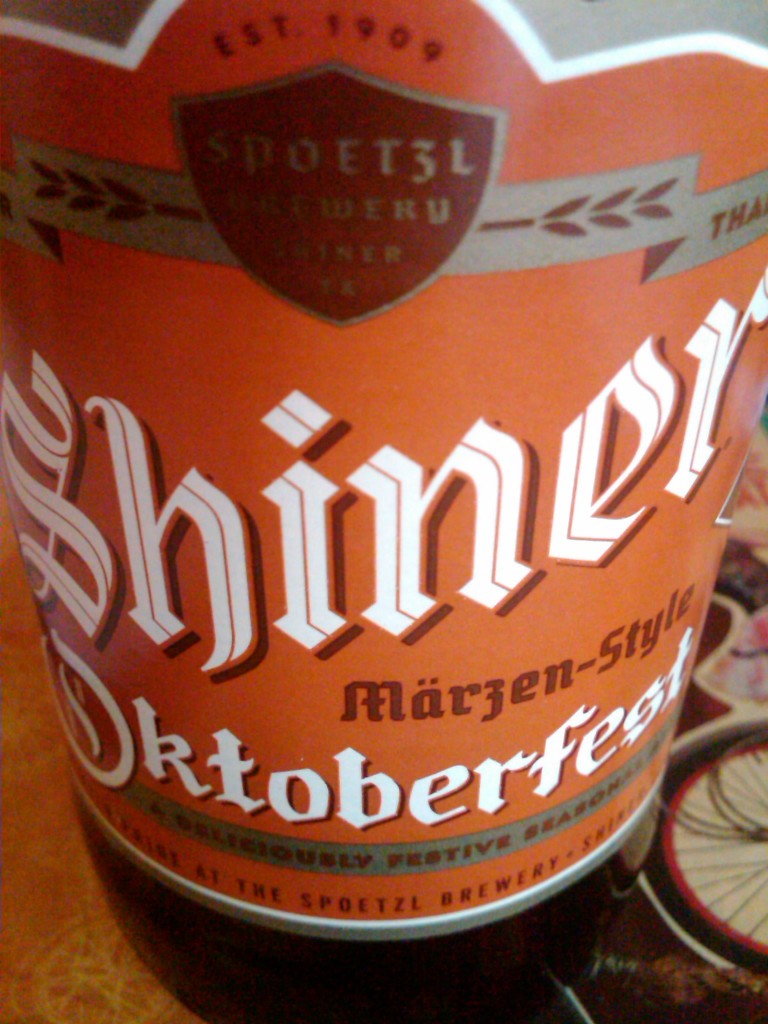 After a five year hiatus, Spoetzl Brewing based in Shiner, Texas has brought back Shiner Octoberfest.  It has appeared once before as "Shiner 96th Anniversary"  a one time release by Spoetzl to countdown to their 100th anniversary.  Starting in 2010, you will see Oktoberfest join the seasonal Shiner lineup.
Beer Rundown:
Hops: Hallertau, Hersbrucker
Malts: Caramel, German 2 Row, Munich
Taste Expectations The initial rich malty aroma and sweetness fades to a moderately dry, hoppy finish.
Food Pairings: meaty dishes like sausage and roasted chicken, fresh, creamy cheeses, pasta with white sauces and seafood.
Availability: 12oz/6pks.  Draft.  Fall Seasonal.
5.7% ABV
18 IBUs

Shiner fans get excited.  Hitting Atlanta shelves today is Shiner 101.  This offering by Spoetzl Brewing – Shiner, Texas is a traditional Czech-style pilsner.
The pilsner is a pale lager that origniated in Pilsen, Bohemia – now modern day Czech Republic.  Pilsners use pale malts and noble hops (low aroma, more for bittering) typically Saaz or Hallertau.  This pilsner by Shiner is brewed with just 4 ingredients – water, barley, yeast and hops.   The same way it evolved.
Ingredient Profile –
Hops – Saaz hops from Czech Republic
Malts – Bohemian Barley
ABV – 4.6%
22 IBU's (International Bittering Units.  Low number = Low Bitter)
Available now – 12 oz/6 pks & Draft
Sightings Updated ASAP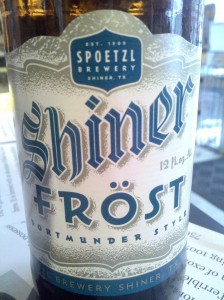 Spoetzel Brewery, makers of Shiner Beers out of Shiner, Texas just released Shiner Frost.  Thought this would be a good time to explain a style of beer.
Frost is a Dortmunder.  This style first originated in Dortmund, Germany in 1873.  This pale lager was first brewed by Dortmunder Union for the industrial workers of Dortmund.   The Dortmunder style is influenced heavily from Pilsner, a golden beer with noble hops. (Noble hops, are more for beer bittering, and not strong hop aroma like IPA's.)
You will find a Dortmunder to have some Pilsner tones to it, or characteristics of a full bodied lager.  In respect to Frost, it's a hand crafted micro brewed lager.
Frost is available in 6 packs.  & ½ Barrels, seasonally.
5.5% ABV