Topic Archives:
Jailhouse Inmate Hooch Series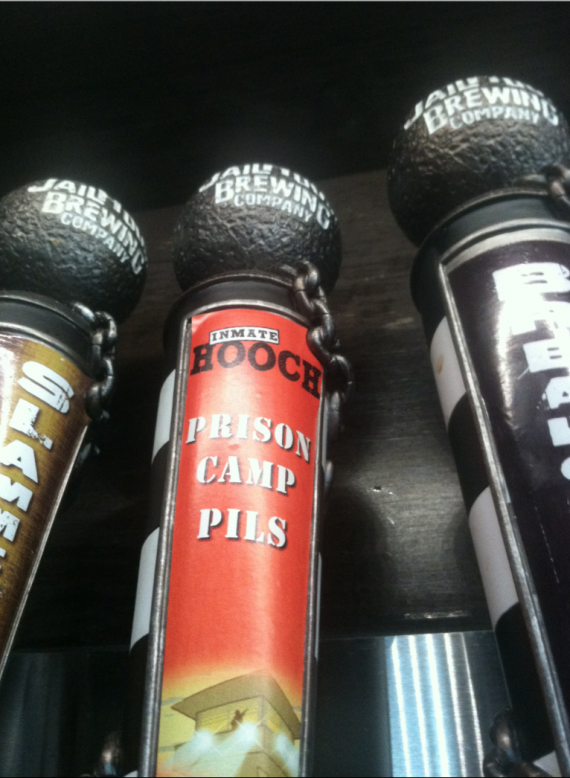 Last evening, Jailhouse Brewing (Hampton, GA) released their 14th beer, Prison Camp Pils. Brewery founder and brewmaster Glenn Golden stepped aside and let the employees brew this release – part of the Inmate Hooch Series.  The employees took the brewhouse to create an easy drinking, hot weather brew as Atlanta temperatures look to hit 100 degrees this week.
The entire jailhouse staff and its fans hit Taco Mac Metropolis to celebrate the release.  The story of Pils goes a little something like this – "While the Warden was out on the links, the inmates broke out of their cells and into the brew house. They framed up a recipe for an American Pilsner: crisp, clean and inviting."  Above: BSJ, Ale Sharpton and the Jailhouse inmates.
The result?  A damn drinkable pilsner (especially for summer.) Really, clean & crisp. Not easy to stop drinking once you start.
Style: Pilsner
Availability: 22oz bombers, Draft.
5.5% ABV, 25 IBUS
Read More: Jailhouse Brewing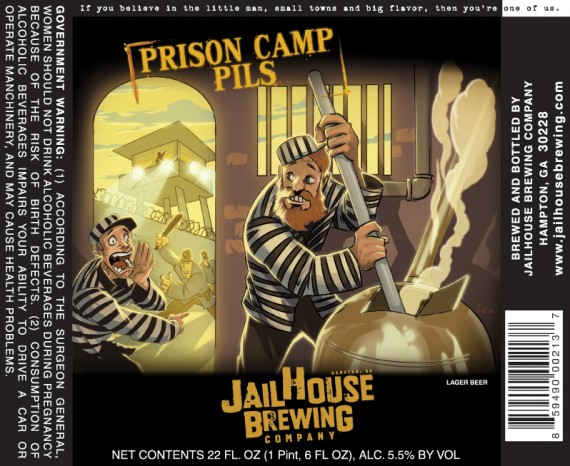 Without sounding biased, Jailhouse Brewing has some of the most creative labels I've seen lately.  The brewery is quite literally based in an old jailhouse/courthouse in Hampton, Georgia, just south of the city of Atlanta.  It's as small town south as you can get.  This summer, brewmaster Glen Golden and the jailhouse crew will release Prison Camp Pils, a new beer and new style for them.
Operating in an old jailhouse (and calling yourself Jailhouse) is pretty much a beer name goldmine.  Each beer falls into unique "jail" themed series – like Solitary Confinement, Witness Protection (you never see bottles), Trustees Series, etc.  Pils is part of the "Inmate Hooch" series.  I promise you, this isn't made in a toilet.    Start looking this one late June, early July 2012.
Style: Pilsner
Availability: 22oz bombers, Draft
5.5% ABV 
Jailhouse just got a new inmate.  Follow @JailhouseInmate for more brewery info…