Topic Archives:
Beer Apps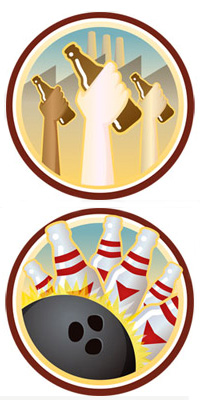 More badges on Untappd.  Making drinking beer even more fun.  From Untappd Blog:
We're hard at work here at Untappd HQ, but amongst all of the feature creation and improvements, we still like to have fun and keep things interesting. It's important to use to keep you on your toes and what better way than to introduce 10 new challenges! Yes, you read that right, 10 brand new badges ready for you to earn!
God Save the Queen
Rising Sun
Down Under
Brew Traveler
Trappist Travesty
Find the Source
Brewery Loyalist
Your Wish Came True
Bowl-A-Rama
Playing the Field
We aren't going to give them away as that would ruin the fun, so be sure to check out the hints! All of these awesome badges were illustrated by our friends atBlueSpark Studios.
Additionally, we recently ran a user poll and gathered quite a bit of excellent feedback. One of the most noted things was a disliking of our 15 minute cool down rule between check-ins. While we can't completely do away with this rule, we have listened and lowered it. You will now only need to wait 10 minutes between brews! This should make it more convenient for our quicker drinkers to log their beers, but as always, please be sure to drink responsibly.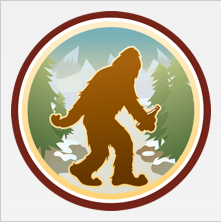 Untappd, a fast growing beer app/mobile site for smart phones has teamed up with Great Divide Brewing to bring you a badge/ con  For those who love drinking Great Divide's Yeti, this badge is for you.
From Untappd's Blog:
For the past week we've been hearing rumors around the office that a tall man-like beast has been wandering the halls. We've been looking every where; following the large foot prints, the bold aroma, and the trail of bottle caps, but have yet to discover what this creature is… until now.
We are proud to announce that we've teamed up with Great Divide Brewing to bring you a special edition badge, straight from the minds of those responsible for releasing these beasts into the world, for those whose Yeti sighting skills prove to be masterful. By tracking down 5 of these mythical creatures, you will unlock the all new "That's So Yeti" badge and be known the world over for your love of this tasty, full-bodied stout. (Note: This is for the regular Yeti Imperial Stout only)
In addition to the badge, Great Divide has been kind enough to provide us with 3 epic Yeti Prize Packs that will be given away to randomly selected hunters that have the tracking skills to unlock the "That's So Yeti" badge.
The prize packs will include:
1 Yeti Short Sleeve Tee
5 Yeti Stickers
1 Great Divide Bottle Opener
1 Yeti Beanie
Upon unlocking the badge, you will be automatically entered into the drawing for the prize packs. Once the promotion period is over on March 9th, we will randomly select the winners and announce them on our blog!
Want to snag some awesome Great Divide swag now? Check out their online store at http://hopshop.greatdivide.com
Now go get your binoculars, bottle opener and start the hunt, but beware – they can smell fear.
Promotion Rules:
US residents only. One winner per household. Winner will be randomly selected. Prize packs cannot be returned, exchanged, refunded for cash or otherwise changed.
As an ex-Boy Scout myself, I get the love of badges.  If you are a Foursquare user and a beer drinker, you've probably heard of Untappd.  It's a mobile site based "app" that networks you and other beer drinkers together for one cause – drinking beer.
Last evening, Untappd announced new seasonal badges.  One for the Super Bowl, and one for Valentine's Day.  If you already have Untappd you'll see the new badges waiting to be earned on your badges pages.
I can't wait to see "I've earned the Super Bowl Badge" all  over my Twitter feed (@ATLBeerMaster) on Sunday.  Oh wait, yes I can.