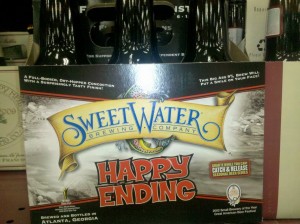 The next round of Sweetwater's Catch and Release seasonal series has returned to shelves – Happy Ending.
Happy ending is a dry hopped Russian Imperial Stout.   This year, the rumor is that the Happy Ending saw the inside of the Dank Tank.  I don't know if there are any differences in this years release from the '08 edition.
Unfortunately, Sweetwater didn't get back to me in regards to this release, so I can only really tell you what is already known.
ABV – 9%
Availability – 6 packs, kegs, liter bottles.   January – March.