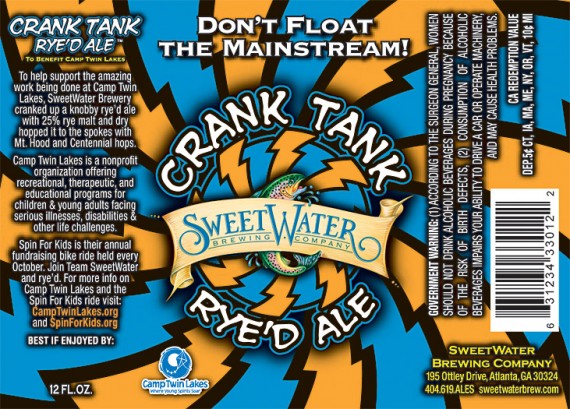 SweetWater Brewing's (Atlanta, GA) Crank Tank Rye'd Ale made a debut last night for IPA Day at the brewery.   The beer benefits Camp Twin Lakes, a special needs camp in Georgia.  2011 marks the 2nd release of this special Rye Beer for a great cause.  If you are in Georgia, get a team together for the Annual Spin For Kids Bike Ride.
Press Release
SWEETWATER'S CRANK TANK RYE'D ALE RETURNS TO BENEFIT CAMP TWIN LAKES' ANNUAL SPIN FOR KIDS
Beer Back On Shelves In Mid August | Crank It Up Event August 23
Brewery Challenges Locals to Buy a Brew, Join the Team, and Rye'd for a Cause
 ATLANTA — SweetWater Brewing Company is inviting Atlantans to once again jump on board with Team SweetWater as they celebrate the mission of Camp Twin Lakes and their Sixth Annual Spin for Kids annual campaign and fundraiser.  In 2010, not only did SweetWater create a new brew, the Crank Tank Rye'd Ale, a beer that gives back; they established their own bike team, for the October race, raising awareness and more than $21K in donations which benefited this amazing non-profit organization. With three ways to play you should too!
"This camp is an inspiration to me and the SweetWater employees so much so we created the Crank Tank Rye'd Ale so that we could have a product that contributed to their cause," said SweetWater's Big Kahuna, Freddy Bensch.  "Camp Twin Lakes provides a safe and nonjudgmental environment for children with special needs — something they can't always find in the real world.  These children will touch your heart and inspire of all of us to raise even more money."
SweetWater is gearing up and you can too, here's how!
Wanna learn more about Spin for Kids?  Mark your calendars for August 23 when Camp Twin Lakes hosts Crank it Up at the brewery.  Join us for a $10 donation which includes a SweetWater brewery tour, beer tasting, terrific live music and a commemorative glass.  Learn about the event from Camp Twin Lakes representatives and sip on the new Crank Tank brew!  Passes available at www.spinforkids.org.
Want to come along for the ride? Cruise with the SweetWater Brewery team at Camp Twin Lakes' residential camp facilities in Winder and Rutledge, Georgia in either the Mountain Bike Ride on Saturday, October 22nd at Camp Twin Lakes- Will-A-Way at Fort Yargo State Park! Saturday riders can also participate in Sunday's Road Bike Ride and then join in a post-race festival at the camp in Rutledge on Sunday October 23rd. All ages and skill levels are invited to participate. Team SweetWater's goal: 27 miles (those beer bellies will be slowing 'em down a bit!) To ride with Team SweetWater or to sponsor one of their riders — and receive a limited edition SweetWater and Spin for Kids shirt – visit www.spinforkids.org.
Can't join a team?  Buy a Crank Tank at participating establishments starting in mid August and enjoy a lip-smackin' brew with the satisfaction that you've contributed to a good cause. Oh and remember, this Limited Edition Crank Tank will only be available for a two months — don't wait to spread the word, it will be gone before the ride.  Check one out at SweetWater displays in various stores from mid August until early October and sign up for your chance to win a GIANT mountain bike on the SweetWater team page at www.spinforkids.org.
About SweetWater Brewing Company: SweetWater Brewing Company is an Atlanta-based craft brewery specializing in aggressive West Coast style beers. SweetWater's brews are unpasteurized and designed to be consumed fresh so distribution is limited to the Southeast. The award-winning lineup of year-round brews includes SweetWater 420, IPA, Sch'Wheat, Blue and Georgia Brown.  SweetWater also features a Catch and Release series of beers available on a limited basis throughout the year, and an experimental, one-time-only Dank Tank series. The SweetWater Brewery, open for tours every Wednesday, Thursday and Friday from 5:30-7:30  p.m. and Saturdays from 2:30-4:30 p.m., is located at 195 Ottley Dr NE, Atlanta GA 30324. For more information about SweetWater Brewing Company, please visit www.sweetwaterbrew.com.
About Camp Twin Lakes and Spin for Kids:  Camp Twin Lakes is a not-for-profit organization that offers year-round recreational, therapeutic, and educational programs for children facing serious illnesses and other physical, emotional and life challenges. With its network of partners, Camp Twin Lakes provides life-changing experiences for thousands of children each year at its state-of-the-art, fully accessible facility, located on 500 acres in Rutledge, Georgia, and at other locations throughout the state.  For more information, visit www.camptwinlakes.org   Spin for Kids is our annual fundraising bike ride that invites both mountain and road bikers to raise money in support of Camp Twin Lakes.  For more information, visit www.spinforkids.org.