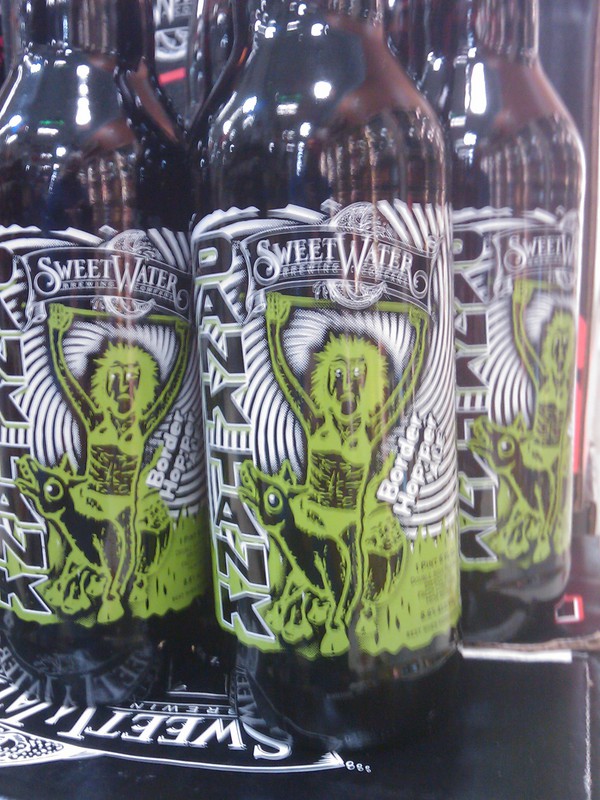 The most recent creation in SweetWater Brewing's "Dank Tank" is popping up.  "Border Hopper" is an imperial IPA brewed using citra hops that have recently become popular. SweetWater hopped this beer with fresh hops from the heart of hop territory in the U.S. – Yakima, Washington.
Commercial Description:
Border Hopper, with a little help from their friend, Señor Dank, who left his wife, Lupa, and their eight screaming babies in search of the freshest hop harvest in the land and the promise fields of Buford Highway.  His censored journey began in the hop fields of Yakima where he scored some of the stickiest, freshest green hops, found a farmer's daughter, and ended up in Atlanta where he deals his stash to us boys at SweetWater to create this highly aggressive, censored, and muy fresh double India pale ale.
This brew is pushing the envelope as our newest addition to the series of rarely released, experimental beers. The double IPA, brewed with fresh Citra hops, is 8.6 percent ABV, comes in 22 ounce bottles and on draft and is best served fresh.  But act fast because this stash won't last forever.  Just like that rash you got in Tijuana, the Border Hopper will be gone just as soon as the next brewing itch needs to be scratched.
Beer Rundown:
Style: Imperial IPA
Hops: Fresh citra
Taste Expectations: Hops give the beer a pineapple, & citrus.  Almost tropical fruit flavor. Light malts sweeten the deal a bit, making this a very aggressive, hoppy, delicious IPA.
Availability: 22oz bombers.  Draft.  One time limited Dank Tank release.
8.6% ABV
Looking for this? Just hit shelves @ Tower in Buckhead.  Total Wine, Perimeter.  Green's Beer, Hop City (Thurs).  Tapping on the brewery tours this week !
Thx Tower for the pic.