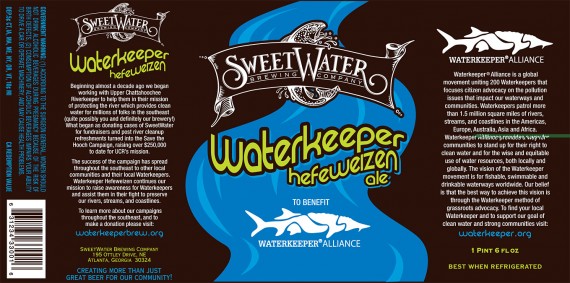 SweetWater Brewing's Waterkeeper Hefeweizen is headed back to shelves.  Starting in late May (read: now) is hitting southeastern tap handles.   Last year, Waterkeeper Hefeweizen debuted to raise awareness of the Waterkeeper Alliances around the south. The brewery gets it's water from the infamous Chattahoochie River that flows near the city of Atlanta.  To date, SweetWater has earned $350,000 toward the campaign.
Waterkeeper® Hefeweizen is cloudy golden in color, brewed with wheat and two-row barley malt, and Sterling and Hallertau hops. A refreshing brew for summer in the South, this Hefeweizen ale rings in at 5.7% ABV and underneath its fluffy white head it delivers banana and clove notes from the Bavarian Hefeweizen yeast with a hint of lemon.
In addition to the Chattahoochee Waterkeeper they began work with Waterkeepers® across the Southeast including: Neuse Riverkeeper Foundation and French Broad Riverkeeper in North Carolina, Charleston Waterkeeper in South Carolina,  Black Warrior Riverkeeper and Mobile Baykeeper in Alabama, along with Apalachicola Riverkeeper and St. Johns Riverkeeper in Florida.
SweetWater will host their first-ever regional concert series this year featuring bluegrass band and headlining act Railroad Earth.   The series kicks off on June 20-24, touring Raleigh, Charlotte, Charleston and Jacksonville with Waterkeeper Hefeweizens flowing at each show. Visit: http://waterkeeperbrew.org/concert.php.
More on the beer and the cause:  www.waterkeeperbrew.org.