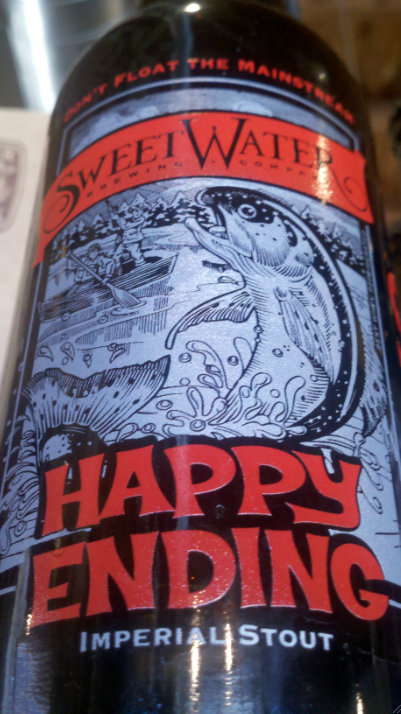 You know the year is drawing to a close when SweetWater Brewing's Happy Ending arrives.  This years edition finds this imperial stout in new wax capped bombers.  SweetWater describes this big beer:
This award-winning (Silver Medal Winner at the World Beer Cup) Imperial Stout offers a robust blanket of roast, chocolate, coffee, plums and raisins that will sink into your taste buds. An explosive burst of citrus hops complement the warm rich flavors and will send you over the top.  This year leaves something of a surprise for all of us, as the 22oz bottles are printed with 2010, but the beer won't be showing up till early 2011.  Let's chalk it up to a true Happy Ending to one hell of a year!
From the bottle:
Rub Figured A Hopped Roll By Dry Balanced Will Stiffy Body In Ending A Explosive Lube Stout Finish The Huge Full On Resulting A Mom
Style: Russian Imperial Stout
Hops: Willamette, Cascade (dry hops)
Taste Expectations: Roast, chocolate, coffee, plums & raisins. Citrus hops compliment the roasty flavors. Lots of hops.
Availability: 22oz Waxed Bombers. 12oz/6pks. Draft.  December-March, seasonally.
9% ABV