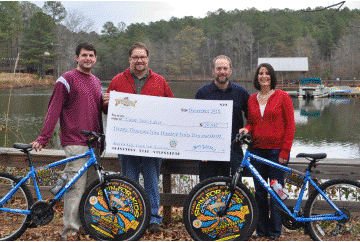 SweetWater Brewing recently released Crank Tank Rye'd Ale in conjunction with their 5th Annual Spin For Kids Fundraiser.  21,000 – the money raised by the event benefits Camp Twin Lakes, a non-profit organization dedicated to providing children with serious illness and special needs and their families a recreational outlet. (Direct quote. Couldn't say it better myself).   The event was a great success, for all involved.  Craft beer really gives back.
PHOTO Left to Right: Camp Twin Lakes' Adam Cohen (Special Events Coordinator), Dan Mathews (Director of Camping Services), SweetWater Brewing Company's Steve Farace (Minster of Propaganda) and Jessie Rosenberg (Director of Development). Photo Credit: Erin Kasari
ATLANTA: This fall SweetWater Brewing Company challenged Atlantans to jump on their bikes with Team SweetWater as they celebrated the mission of Camp Twin Lakes with a new brew, Crank Tank Rye'd Ale and their Fifth Annual Spin for Kids Fundraiser Oct. 23-24, 2010.  The local boys created their latest beer to raise money and awareness for this non-profit organization dedicated to providing children with serious illness and special needs and their families a recreational outlet.  Well, they did just that!  Nearly 21K was donated on behalf of SweetWater Brewing Company to the camp as part of the over $280,000 raised through Spin For Kids as well as 30 GIANT mountain bikes for the campers and counselors to use at the camp.
"Camp Twin Lakes has made a profound impact on my life," said Freddy Bensch — SweetWater's Big Kahuna.  "It provides a safe and nonjudgmental environment for children with illnesses and special needs — something they can't always find in the real world.  SweetWater is proud to connect with a great cause, participate, brew and most of all give back!"
About SweetWater Brewing Company: SweetWater Brewing Company is an Atlanta-based craft brewery specializing in aggressive West Coast style beers. SweetWater's brews are unpasteurized and designed to be consumed fresh so distribution is limited to the Southeast. The award-winning lineup of year-round brews includes SweetWater 420, Sch'Wheat, IPA, Blue and Georgia Brown. SweetWater also features a Catch and Release series of beers available on a limited basis throughout the year, and an experimental, one-time-only Dank Tank series. The SweetWater Brewery, open for tours every Wednesday, Thursday and Friday at 5:30 p.m. and Saturday at 2:30 p.m., is located at 195 Ottley Dr NE, Atlanta GA 30324. For more information about SweetWater Brewing Company, please visit www.sweetwaterbrew.com or follow on twitter — @sweetwaterbrew or on facebook under www.facebook.com/sweetwaterbrew.
About Camp Twin Lakes and Spin for Kids: Camp Twin Lakes is a not-for-profit organization that offers year-round recreational, therapeutic, and educational programs for children facing serious illnesses and other physical, emotional and life challenges. With its network of partners, Camp Twin Lakes provides life-changing experiences for thousands of children each year at its state-of-the-art, fully accessible facility, located on 500 acres in Rutledge, Georgia, and at other locations throughout the state.  For more information, visit www.camptwinlakes.org.  Spin for Kids is our annual fundraising bike ride that invites both mountain and road bikers to raise money in support of Camp Twin Lakes.  For more information, visit www.spinforkids.org.