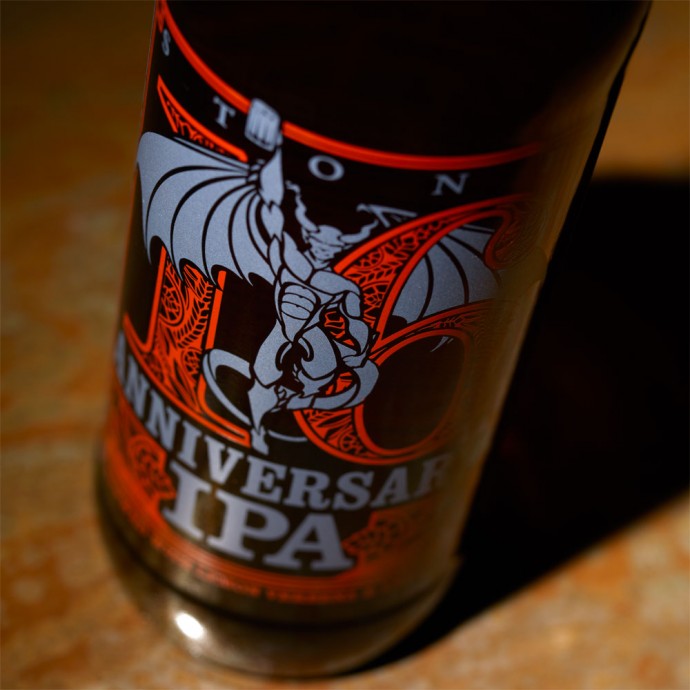 Stone Brewing Co celebrates 16 years of craft brewing with Stone 16th Anniversary IPA. This new hoppy offering is brewed with lemon verbena, lemon oil, plus an eclectic mix of hops for the discerning hophead.
"Each year we strive to create a uniquely tasty and hoppy beer that allows us to use an assortment of ingredients, and the Stone 16th Anniversary IPA is certainly a testament to our brewing team's goals," says Brewmaster Mitch Steele. "We used a variety of malts, hops and botanicals to create an intense, bitter and refreshing IPA perfect for long summer nights."
The beer will be celebrated at Stone's anniversary party (weekend) August 17 & 18 at California State College. Start looking for it to pop up in the states below any day.
Style: Imperial IPA (w/ Lemon Verbena, Lemon Oil)
Hops: Magnum for bittering, Delta and Target in the whirlpool, and Calypso and Amarillo in the dry hop
Malt: Pale, Rye, Vienna, Light Munich and Dark Munich
Availability: 22oz bombers, Draft
Distribution: AZ, CA, CO, CT, DE, FL, GA, ID, IL, IN, KY, LA, MA, MD, ME, MI, MN, MO, MT, NC, NJ, NM, NV, NY, OH, OR, PA, RI, SC, TN, TX, VA, VT, WA
10% ABV, 85 IBUs