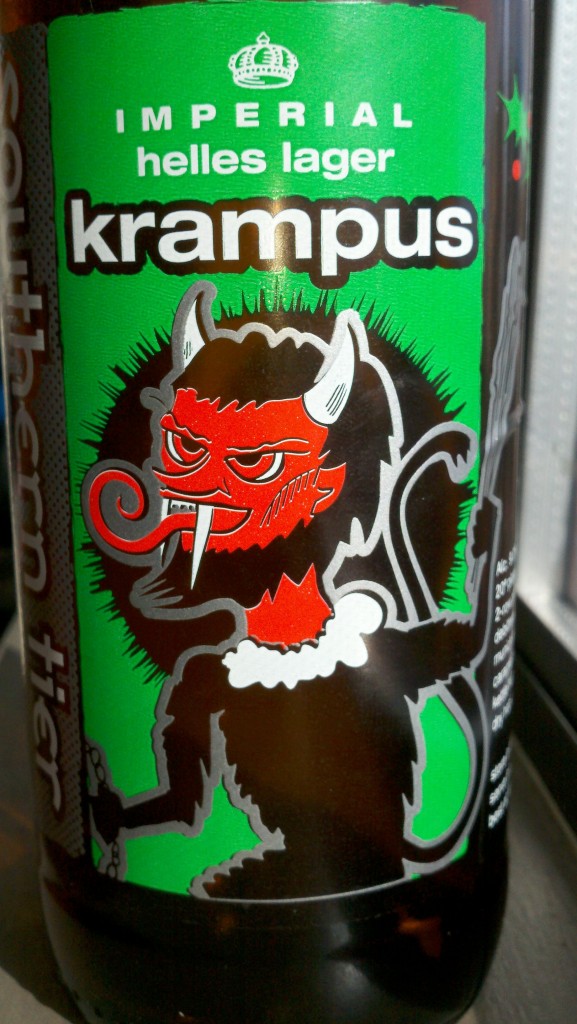 This is Southern Tier Brewing's "festive" beer — Krampus.  I use the "quotes" because the label depicts a Christmas devil that beats naughty children with whips & chains.  I guess it's too late to start being good.  Krampus is not a winter warmer.  This devil is an bold imperial pilsner.  Hide your kids.
Commercial Description:
St. Nicholas, aka Santa Claus, is a magical figure, the bringer of gifts and an icon of holiday spirit. Forgotten by most is his evil side kick and enforcer of 'the list'. European tradition says while St. Nick is busy delivering presents to good little boys and girls, Krampus hands out punishments to the bad. A fanged, goat-horned bully, the Christmas Devil uses sticks and chains to beat the naughty children. Dark malts and aromatic hops create the diabolical spirit of this brew. It is finished with lager yeast and aged cold for no less than 30 days. This Imperial Helles Lager will warm even the darkest hearts. This season, replace the cookies with a bottle of Krampus. If he happens to pay a visit, toast to him with this devilish brew. Merry Kramp-mas to all, and to all a good pint!
Style: Imperial Pilsner
Hops: Chinook (Kettle), Willamette (Dry Hop)
Malts: 2 Row Pale, De Bittered Black Malt, Munich Malt, Caramel Malt
Taste Expectations: Pine Hops!  Spicy as it warms. Caramel malt.  Liquid Christmas.
9% ABV