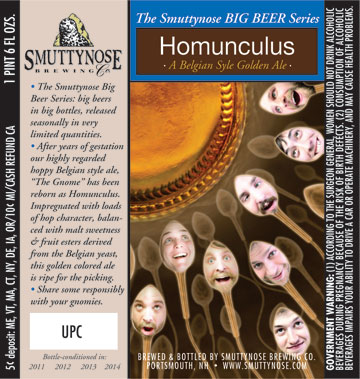 Smuttynose Brewing is brewing back a beer from the "Small Batch Series" dubbed Gnome.  This time around, it gets a new name, and pretty weird label.
About Gnome:
First brewed 2007.  The beer is an homage to hoppy Belgian style brews growing popular in the U.S.  Base beer is a Belgian style tripel brewed with White Labs Chimay yeast.  Very little of this beer has ever been available.  The name is an homage to Brasserie d'Achouffe.  It's coming back into production, born again as Homunculous.
Label:
The Smuttynose Big Beer Series: big beers in big bottles, released seasonally in very limited quantities.  After years of gestation our highly regarded hoppy Belgian style ale, "The Gnome" has been reborn as Homunculous.  Impregnated with loads of hop character, balanced with malt sweetness & fruit esters derived from the Belgian yeast, this golden colored ale is ripe for the picking.  Share some responsibly with your gnomies.
Style: Belgian IPA
Hops: Vanguard Bittering Hops, Sterling Flavor Additions, East Kent Goldings Dry Hop
Malt: Weyermann Pilsner Malt, CaraHell (per Smutty)
Cane Sugar
Arrival: Spring 2011