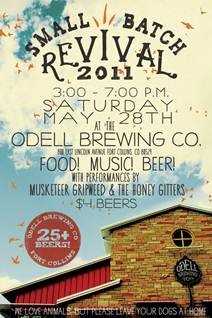 Odell Brewing is bringing their small batch festival after 2 years….
A Small Batch Revival
Odell Brewing announces the return of its Small Batch Festival
Fort Collins, Colo. — On May 28, 2011 Odell Brewing will host the Small Batch Revival. The event (formerly known as the Small Batch Beer Festival) returns after a two year hiatus during the brewery's expansion.
The inaugural event took place in 2007, when over 1000 beer enthusiasts ventured to the brewery to enjoy a variety of beers, live music, and local food. The following year, the event featured over 23 brews and drew nearly 3500 guests.
This year, the brewery will host the event in its newly finished West side parking and lawn areas, and will feature over 25 different beers. Those in attendance can enjoy live performances by Musketeer Gripweed and the Honey Gitters. Food from Nordy's, Uncle's Pizza, and Matador Grill will also be available for purchase.
"We are very excited to bring back the Small Batch event this year," said Adam D'Antonio event organizer, "It's just our way of saying 'thanks' to our amazing beer community."
The Small Batch Revival will run from 3:00 — 7:00 p.m. on Saturday, May 28th. There is no entry fee, and beer tokens can be purchased for $4.
Founded in 1989, Odell Brewing was started by Doug Odell, his wife Wynne, and his sister Corkie. Twenty-one years later, the culture of family and collaboration still thrives fostering a brewery full of beer-centric people. It is this passion for beer that inspires Odell Brewing to create quality, hand-crafted, innovative brews. In 2010 the brewery completed its fourth expansion, adding a wood-aging cellar, a 750 ml bottling line, and a 76 kilowatt photovoltaic system capable of providing 25% of the brewery's peak energy demand. As a regional craft brewery, Odell Brewing is committed to serving the communities in which it distributes by sourcing local raw materials, and through its charitable giving program known as Odell Outreach. Odell Brewing was recently named a "Top Company of 2010" by ColoradoBiz Magazine and is an award winning brewery, nationally and internationally: 2010 North American Beer Awards — gold medal for Woodcut No. 3. 2009 BrewNZ Awards — gold for 5 Barrel Pale Ale. 2008 World Beer Cup® — gold for IPA. 2007 Great American Beer Festival® — gold medal for IPA.