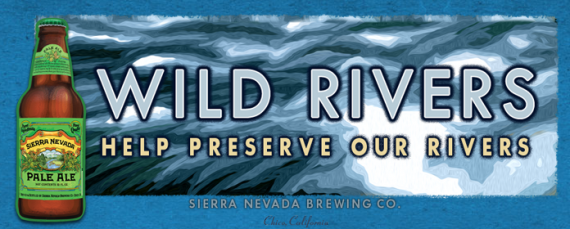 Beer is mostly water. Bad water bad beer. Breweries like SweetWater Brewing understand this, so does Sierra Nevada.  2011 marks the 3rd Annual "Wild Rivers" campaign.  From August 1 – September 10, 2011, a portion of the sales of Pale Ale go to the Western Rivers Conservancy based in Portland, Oregon.   
Press Release
CHICO, CA — Sierra Nevada Brewing Co.–a pioneer in sustainability and craft brewing–announced today the launch of the third annual "Wild Rivers" campaign. Wild Rivers is a campaign dedicated to helping preserve vital waterways across the country.
For every 12-pack of Pale Ale and Sierra Nevada seasonal beer purchased in the U.S. from August 1 through September 10, Sierra Nevada will donate a portion of proceeds to river conservation-focused partners across the country, including Western Rivers Conservancy, a non-profit based in Portland, Oregon.
"Great water is essential to making great beer," said Ken Grossman, Founder and President of Sierra Nevada Brewing Co. "We are committed to preserving natural waterways both in the Sierra Nevada that offer our inspiration, and across the nation.
"We measure the success of our business not only on the quality of our beer, but also our contribution to a healthy environment," Grossman said.
The "Wild Rivers" partnership, which will be visible at retailers across the nation, aims to raise awareness and increase stewardship of rivers that sustain our communities and ecosystems. Since the program's start in 2009, Sierra Nevada Brewing Co. has donated more than $170,000 to its partners to help preserve vital waterways across the country. A portion of these proceeds have supported Western Rivers Conservancy's work to create parks and protected natural areas along rivers like the Klamath in California, the John Day in Oregon, the Hoh River in Washington, and the Gunnison River in Colorado.
"Sierra Nevada has blazed a trail of environmental stewardship," said Phil Wallin, President of Western Rivers Conservancy. "We are proud to partner with such a great company to advance our mission to protect the great rivers of the West."
Besides Western Rivers Conservancy, the 2011 Wild Rivers campaign will also support the Ohio River Foundation, Delware Riverkeeper, The River Project, and the Southeast Watershed Forum.