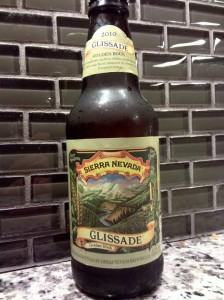 Last year it was E.S.B. or Early Spring Beer.  This spring it's Glissade.  While half of the U.S. is getting buried in snow, Sierra Nevada's spring seasonal is here.
Coming from a ballet family, I know Glissade as a ballet movement which means to slide.  Another definition includes a way to decend a snow covered slope, which might go well with a spring offering.  Glissade is a traditional spring bock also known as maibock.  A maibock is a lighter version of the darker maltier, winter bocks.  The maibock appears golden to light amber.  Hops are a bit more prevalent compared to the winter bocks.
Glissade is golden in color, with malty tones.  There is some citrus, floral hops in the taste.  Ingredient rundown –
Hops –  Bittering – German Magnum, German Perle.
Finishing – German Spalter, Slovenian Aurora, Styrian
Malts – 2 Row Pale, Europils, Munich, Crystal
Yeast – Lager
42 IBU
6.4% ABV
Limited Availability Seasonally in 12oz 6 packs, Draft.