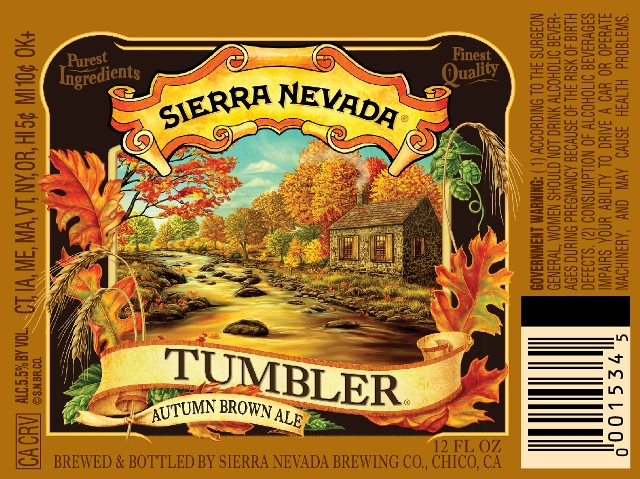 Still doesn't feel like fall yet, but the beers are creeping in. Sierra Nevada's fall offering Tumbler Autumn Brown Ale.  This brew was tapped as the Anniversary Ale replacement over 3 years ago. Sierra Nevada wanted a less hop forward offering  suitable for fall.
"As the nights grow cool, the leaves on the valley oaks begin to turn and fall. In honor of this yearly dance, we bring you Tumbler Autumn Brown Ale and invite you to enjoy the show. We use malt within days of roasting at the peak of its flavor to give Tumbler a gracefully smooth malt character. So pour a glass, and grab a window seat to watch as the leaves come tumbling down."
Style: Brown Ale
Hops: Challenger, Yakima
Malts: 2 Row Pale, Crystal, Chocolate, Smoked
Yeast: Ale
Taste Expectations: Dark malt flavors.  Caramel.  Roasted grains.  Sierra wanted this accented.  Grainy, chocolatey, nutty.
Availability: 12oz/6 pks, Draft.
5.5% ABV