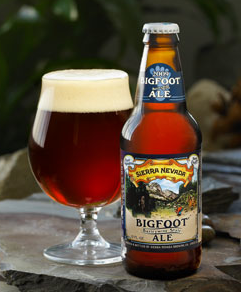 Sierra Nevada Brewing (Chico, CA) has 2 big releases headed your way in January.  Hoptimum –  a brand new imperial IPA for 2011, and their seasonal release "Bigfoot".  Bigfoot is a barleywine released each year in January.  Each bottle is vintage dated, and cellars for years.  (I've recently had one as far back as 2003.
Bigfoot begins shipping in the next week or so – arriving at retailers 3-4 week of January 2011.
Note:  These are always estimates.  Could be sooner, could be later.  Just put it on your radar.