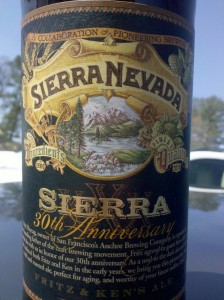 This year, Sierra Nevada turns 30! That's 30 years of craft brewing in Chico, California.  That's a big accomplishment.  In honor of  this anniversary, Sierra Nevada is releasing 4 very special collaboration brews in 2010.  The first — Fritz & Ken's Ale.
Sierra Nevada founder Ken Grossman travelled to Chico, California with the purpose of brewing beer.  Upon arrival, Ken visited Fritz Maytag, easily one of the most well known individuals in craft brewing and owner of Anchor Brewing  Company in San Francisco, California.  Grossman also met with Jack McAuliffe, a US Navy electronics technician and founder of New Albion Brewery in Sonoma, California.  McAuliffe built his brewery by hand.  Much of this hand crafted technology opened the door to future craft brewers in the United States.  With the knowledge of both these legends, Ken Grossman founded Sierra Nevada Brewing, literally out of recycled steel and dairy equipment.
The friendship forged between Fritz Maytag and Ken Grossman is the inspiration for Volume 1 of Sierra's 30th Anniversary releases.  It is also a testament to where craft beer started — Anchor Brewing.  Fritz Maytag purchased Anchor in 1965, and changed beer in the US forever.  Volume 1,  "Fritz and Ken's Ale"  is a stout.   More precisely an imperial stout.  The same kind of stout that enticed Ken Grossman to brew years ago.
Tasting Notes — Bittersweet chocolate, roasted malts.  Grassy, earthy hops are prevalent too, perhaps even some coffee.  As it warms even a little dark fruit.  Start on the cooler side of things, and taste as it warms.  See what your taste buds find.
Availability – Sierra Nevada 30th Anniversary Volume #1 arrives in 750ml bottles, corked and caged.  Very limited draft offerings have been reported around the US, but nothing confirmed for Atlanta yet.  Stay tuned for sightings.  This beer is a one time, anniversary release.
9.2% ABV
Celler? Yes
Retail — Around $9 a bottle
3/24 – In stock, Tower Buckhead