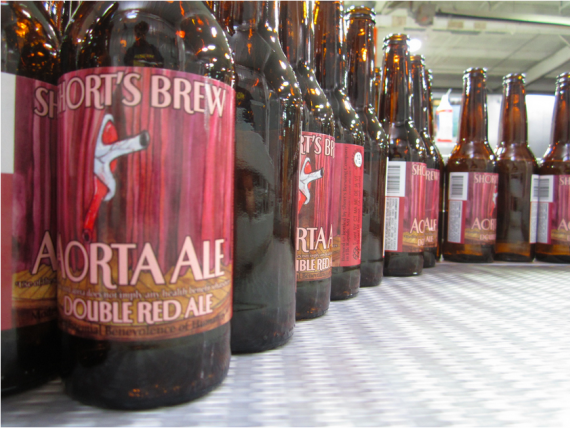 For the second time since 2007 Short's Brewing will be re-releasing their Aorta Double Red Ale as part of their Imperial Series.
"Though Aorta Ale contains only traditional brewing ingredients, subtle aromas of candy, brown sugar, and toasted malt are present. Flavors reminiscent of raisins or figs are noticeable upfront, but give way to a roasted, cocoa like bitterness that becomes magnified by high alpha hops. In contrast to the initial sweetness, it's a heightened bitterness that dominates the finish of this full bodied beauty."
The beer was named for Mark Mueller, a good friend of the brewery, who was undergoing aortic valve surgery. He has since recovered from said surgery and leads Short's mountain bike team. 626 cases have been released statewide making it incredibly rare. Six packs, singles, and cases are also available at their Michigan pub while supplies last.
Style: Imperial Red Ale
Availability: 750 mL bottles
Arrival: coming soon
8.3% ABV