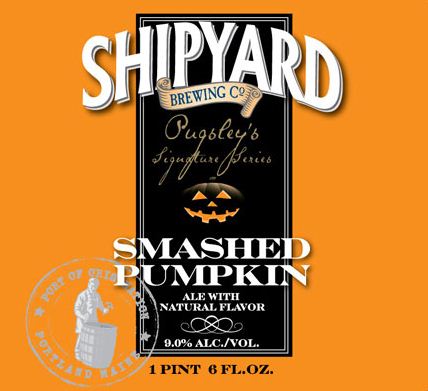 Following on the heels of Shipyard's seasonal release "Pumpkinhead" comes another pumpkin beer – "Smashed Pumpkin."  Smashed Pumpkin is part of the imperial bomber series by Shipyard dubbed the "Pugsley Signature Series."  The series is named for Shipyard's brewer Alan Pugsley.
Commerical Description:
Smashed Pumpkin is a big-bodied beer with a light coppery orange color and pleasing aromas of pumpkin and nutmeg.  The Pale Ale, Wheat, and Light Munich malts combine with the  natural tannin in pumpkin and the delicate spiciness of hops to balance the sweetness of fruit.
Ingredients:
Hops: Willamette, Hallertau
Malts: Pale, Wheat, Light malt
Taste Expectations: Smells of nutmeg & spice.  Pumpkin.  Taste, pumpkin to match with malt and falls spices to balance.
Availability: 22oz bombers.  Draft offerings.  First brewed 2009. Fall seasonal
9% ABV
Side Note:  Shipyard cellar aged some of the 2009 brew.   Bombers with a gold 2009 edition sticker are exclusively available at the Shipyard retail store – Portland, ME.