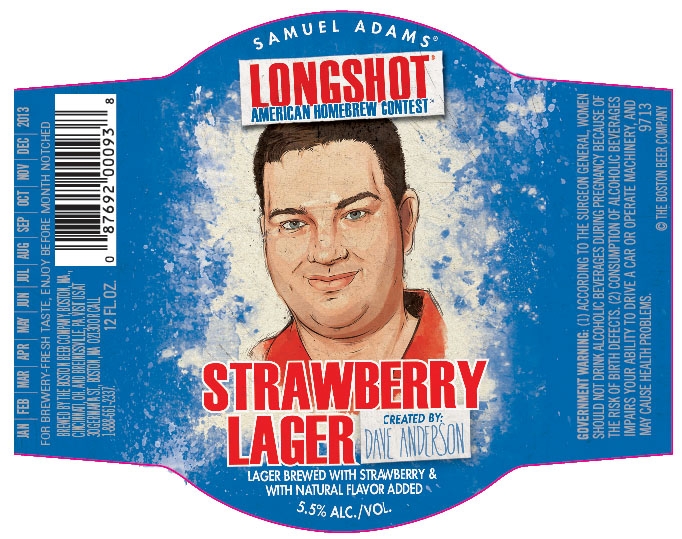 Each year, founder and brewer Jim Koch and the other brewers at Samuel Adams recognize the most talented homebrewers for their world class brews through the Samuel Adams LongShot American Homebrew Contest. When Samuel Adams began the contest more than 15 years ago, it was Jim's dream that the contest could launch some aspiring home brewers into bigger and better things. Every year over 1,000 beers are entered into the contest allowing for just 3 prestigious winners whose beers will then be brewed by Sam Adams and distributed in special LongShot Series sampler packs.
The first of this year's winners, Dave Anderson, works in the packaging department at Sam Adams. His submission, a Strawberry Lager, is described as "a bright and fresh wheat beer, with a strong strawberry character balanced with toffee and citrus notes – the brewer's vision of the perfect summertime beer to enjoy after a round of golf on a hot day. Brewed with fresh strawberries, this beer pours a bright golden color and imparts a malty sweetness with hints of lemon and earthiness. Strawberry Lager finishes with a wonderful intensive strawberry flavor without being overwhelming and leaves a lingering creamy sweetness on the palate."
Look for this beer, as well as the 2 other winners, in the soon-to-be-launched LongShot Series Samplers.
Style: Lager (w/ Strawberries)
Availability: 12oz bottles
Arrival: TBA
5.5% ABV