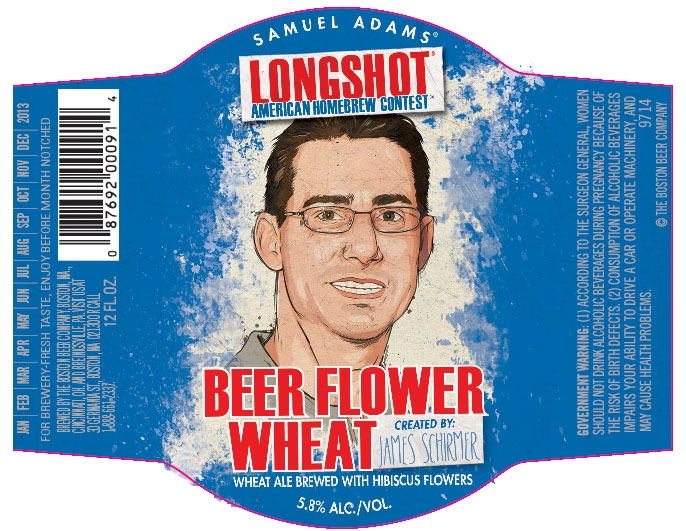 In the words of Jim Koch himself, "America's passion for homebrewing and craft beer is at an all time high, making this year's competition more competitive than ever. This year, even the President of The United States is homebrewing at the White House. As a homebrewer for more than 25 years, I know it's a great hobby – but it can also be a launching pad into a career or a start-up a business." Sam Adams is proud to announce this year's winners of their LongShot Series with the hopes of launching these home brew hopefuls into the next phase of their beer careers.
One of this year's winners, James Schrimer, is one of said hopefuls.  His beer, the Beerflower Wheat, is described as "an ideal balance of smooth, sweet malt flavors with an exotic kick of citrus and herbal notes. Brewed with hot summer weather and fun gatherings in mind, this American wheat beer pours a dark amber color, and imparts a light floral and sweet aroma with the delicate flavors of hibiscus. Beerflower Wheat is a medium bodied brew that finishes crisp and refreshing on the palate."
Look for this along with the other LongShot Series winners in an upcoming sampler pack released from Sam Adams.
Style: Wheat Beer
Availability: 12 oz bottles
Arrival: TBD
5.8% ABV