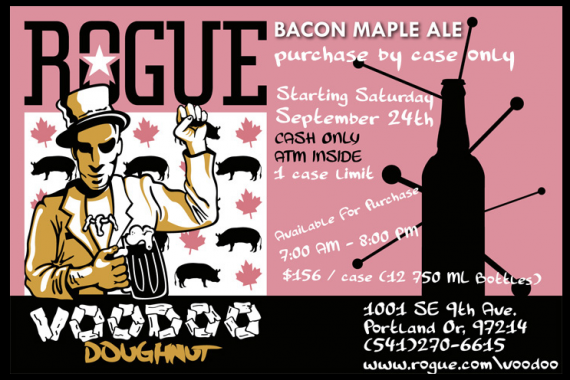 Rogue Brewing's newest bit of creativity – Voodoo Maple Doughnut was made available over the weekend in Portland, OR.  This beer has gotten a lot of press surrounding it's unique ingredient list.   Just to recap, it's a maple bacon porter.  Brewed with maple syrup, bacon, smoked malt, and vanilla beans.
So with all this going on, what do people think?   While I am not in the habit of rating beer, I like many are wondering what is up with this one.  Apparently the pink bottle also comes with a pink condom. (Seemingly just for promo bottles)
We had a quick tasting here at the office, and the results ranged from "no" to "oh!" to "jerky" to "campfire" to "that's not good" to "I don't like it." It generally tastes like a dirty, ashy smoked beer without any of the subtlety of the finer Bamberger rauchbiers. The maple syrup notes pop up now and again, but the smoke flavor, along with fatty hits of unwanted bacon, dominate. Smoked beer enthusiasts might get a kick out of it, and perhaps it could pair decently with a porky, syrupy breakfast of some kind, but otherwise the blend of sweet and smoky is jarring.
No ratings have shown up on the big 2: RateBeer/ BA.  What's left will apparently be hitting distribution.
Style: Porter
10 ingredients
Malts: Great Western 2 Row, Chocolate, Black, Biscuit
Extras: Maple syrup, apple smoked bacon, vanilla beans, vanilla extract
Pacman yeast, Free range coastal water.
Availability: 22oz PINK bombers