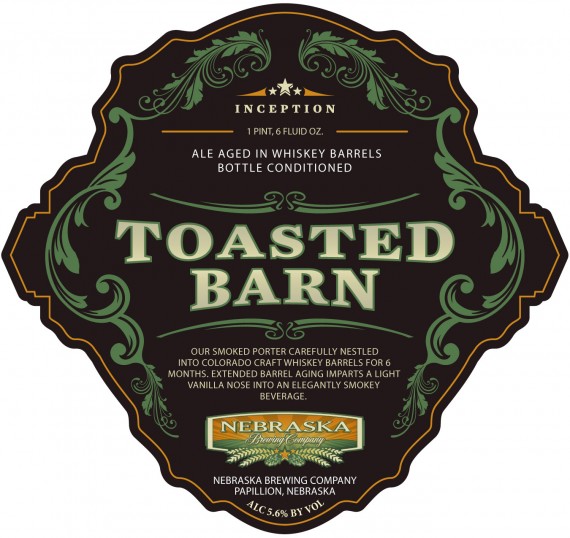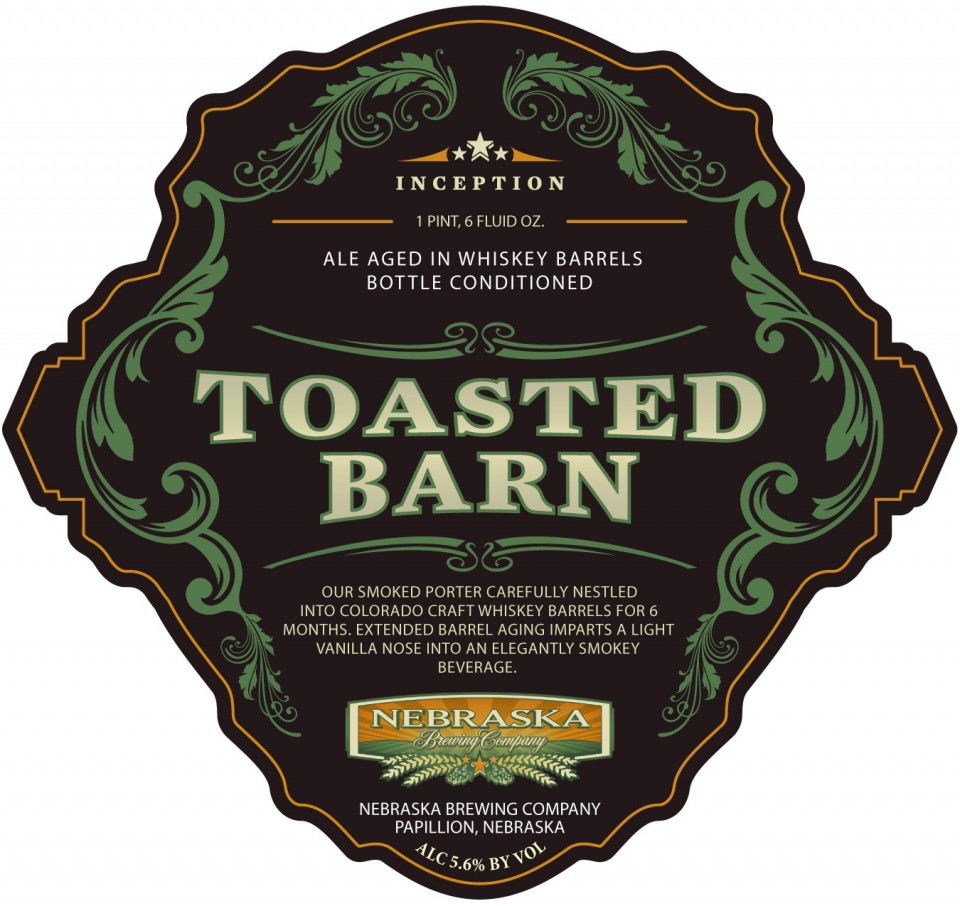 Nebraska Brewing Company bottles their first barrel aged beer in the Inception series.  22oz bombers, brewpub release only.  First release is Toasted Barn, a smoked porter aged in Stranahan whiskey barrels.
Papillion, NE (Aug 2011) – Nebraska Brewing Company today announces the bottling of the first barrel-aged Craft Beer in its newly formed Inception Series.
Aptly named due to the experimental nature of these beers, Inception Series beers are expected to be one-off, very small batch bottlings bottled in 22 oz. bombers. These beers will be sold at a lower price point than Nebraska Brewing Company's Reserve Series beers. Inception Series beers are expected to be sold only in the brewpub in Papillion, NE due to the very limited supply.
It is likely that some of these beers may graduate into The Reserve Series line at some later date should they be deemed worthy of the stature of this line. At this time, all beers currently targeted for the Inception Series are aging in barrels with some going through an extended maturation and souring process.
Paul Kavulak, President of Nebraska Brewing Company stated: "Quite some time ago, we finished experimentation on a very small batch of Missouri Oak Aged Rye IPA. At the time, we felt the beer was a good beer, but weren't sure we could include it in the Reserve Series Line and we had no other bottle format for sales back then. It wound up in a bomber, without a label and was consumed inside the brewpub only. It was later awarded a medal at the Festival of Wood and Barrel Aged Beers. It became clear these beers needed a formal production process."
Adding further, "We've since laid down a number of barrel aged experiments and when they emerge, they will now find themselves in the Inception Series as their first appearance for Nebraska Brewing Company."
The first beer in this series, Toasted Barn, is a Smoked Porter aged in Stranahan's Whiskey barrels. When originally brewed, Toasted Barn had a robust smoky character through the addition of 35% Smoked Briess Malt. It seemed a fitting combination at the time to send this beer through extended aging within the Whiskey barrel program used for other beers such as Black Betty RIS, and Fathead Barleywine. The resultant beer is one with a mellowed smokiness, vanilla aromatics, and oak tannins which elevate the finish into a very remarkable beer. Bottling has recently been completed and its anticipated release date is August 26, 2011 at Nebraska Brewing Company in Papillion.
Nebraska Brewing Company was formed in November of 2007 and has established itself as a Midwest Innovator of quality Craft Beers and artisanal Barrel-Aged Products. Building on a reputation for quality, flavor, and creativity — Nebraska Brewing Company strives to be a stand-out in an ever growing field.
Nebraska Brewing Company is proud to be a locally owned and locally operated brewpub in Papillion, Nebraska. Small, independent, and pushing the envelope.