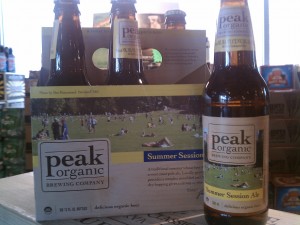 Some drinkers see the word organic and they grimace.   I guess the word organic has gotten a "bean sprouts and tofu reputation."  I won't lie, even I am guilty of that thought before my first taste of a Peak Organic brew.
Let me do tell you that there is no reason to grimace.  Peak Organic Brewing is a very well intentioned brewery with an emphasis on the good things in life.  Recently, Peak released Summer Session Ale, a wheat ale.  As craft beer gets more bold and extreme, it is easy to lose touch with session beers.  (Ideally less than 5% ABV)  As the weather gets warmer, I find my desire for light, refreshing beers increasing.  While extreme, inventive, strong, and bold beers make craft beer great, I think its time to focus back on some session beers for a bit.  In honor of summer, hammocks, beaches, and lawnmowers.
This is the first release of Peak Organic Summer Session. I spoke to Rob Lucente, owner of Peak about Summer Session.  Rob is a great guy with a lot of passion for his business and craft beer.  Peak has almost been overwhelmed with the great response from Summer Session's release.  Rob describes Summer as "a wheat beer marries a west coast pale ale."  Summer Session is brewed with locally grown Maine wheat.  Ingredients –
Hops – Amarillo. Dry Hopped generously with Amarillo
Malts – 2 Row and a touch of Carapils-
Availability – 12oz/6 pks and Draft.  Summer Seasonal
Taste Expectations – Very approachable, light & crisp ale with notes of citrus and lemon peel.  Light hop aroma.
5% ABV
Fun Fact – The images on Peak Organic beers and 6 packs aren't stock photos.  They are photos ( with stories) of people enjoying a "Peak" moment in life.  Its feel good drinking! More at www.peakbrewing.com