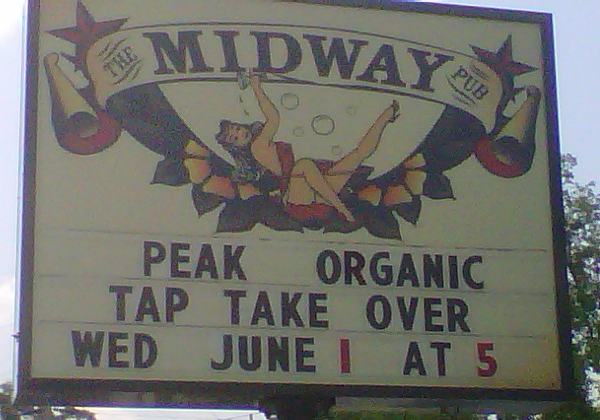 Today starting at 5 pm, Peak Brewing takes over the taps at Midway Pub.  The growing brewery from Portland, Maine will be showcasing a not only a couple of year round beers, but a their new big beers they have released for 2011.
Tap Lineup:
CASK: IPA: Cask edition of Peak's IPA
IPA – India Pale Ale, 7.2%.  IPA brewed with Nugget, Simcoe, Amarillo.
Hop Noir – Black IPA, 8.2%. Features centennial hops, full of dark roasty malts.
Winter – American Dark Wheat Ale, 5%. Dark wheat mixes with citra hops to make a pineapply wheat offering.
Summer – Pale Ale, 5%. Imagine a pale ale  & a wheat ale get married & you have Summer Session.
Spring Simcoe – Pale Ale, 5.4%.  Pale ale single hopped with simcoe.
Nut Brown – English Style Brown, 4.7%. Lots of chocolate & munich malts to make malt lovers happy.
Midway Pub – 6/1/11, 5 pm
552 Flat Shoals Avenue Southeast
Atlanta, GA 30316
@MidwayPub