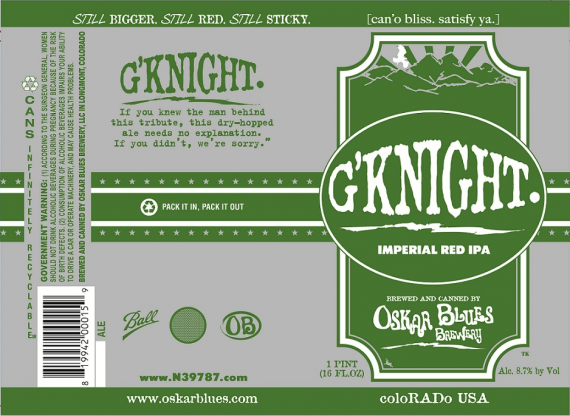 Now that Oskar Blues (Lyon, CO) has the ability to produce 16oz cans (see Deviant Dales) the brewery is looking to add G'Knight to the tallboy lineup.   G'Knight went by the name "Gordon" until Gordon Biersch sued to the brewery over the name.
Gordon is a dry-hopped hybrid strong ale somewhere between a Double IPA and and Imperial Amber Ale (IAA). Brewed in tribute to the late Gordon Knight, Gordon is brewed with massive amounts of American hops and features about 85 IBUs and 8.7% alcohol by volume. 
Style: Imperial IPA
Availability: 12oz cans, Draft. Soon: 16oz cans
8.7% ABV 
Just this week, the brewery announced a new location they will build in North Carolina.
Read More: Oskar Blues