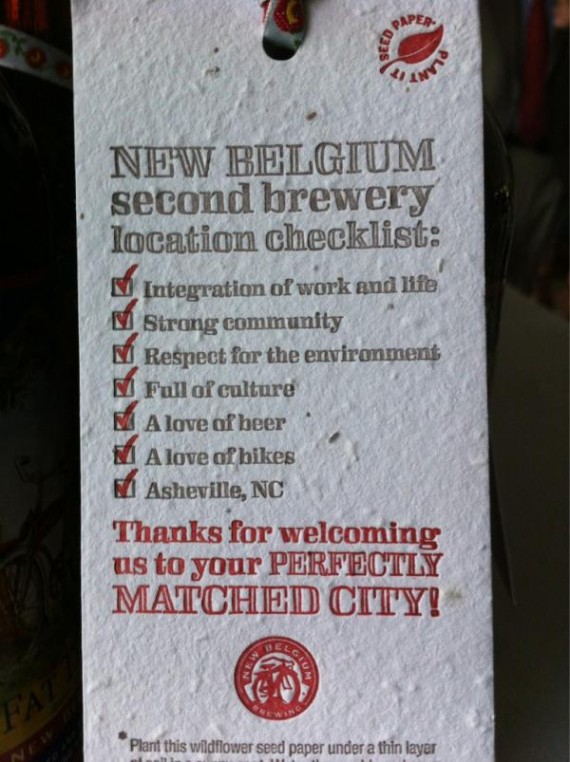 Asheville's brewery scene just got even bigger.  New Belgium Brewing has officially announced their intent to build a 2nd brewery in Asheville, North Carolina.  Pic via @WinBassett.  New brewery will be 400,000 barrels annual.  To be completed by 2015.
Press Release:
New Belgium Brewing Announces Asheville as Site for Second Brewery
Brewer will expand production capacity with east coast facility
Fort Collins, CO, April 5, 2012 – New Belgium Brewing announced today that Asheville, NC has been selected as the new location for a second brewery. The 400,000-barrel brewery and packaging facility will provide New Belgium with additional capacity allowing the Colorado-based brewer to expand into new areas of distribution. Upon completion in 2015, the facility will initially create 50 new jobs in the Asheville area with more than 100 positions expected at full buildout.
"After several years of searching, we are incredibly excited to have landed in Asheville," said Kim Jordan, CEO and co-founder of New Belgium. "From the deep sense of community to the rich natural environment and the opportunity to revitalize a brownfield site near a vibrant downtown, Asheville has everything we've been looking for in a location for our second brewery."
The 17.5-acre site located in the heart of the River Arts District will accommodate the 150,000 sq. ft. facility. The brewery will feature a 200-barrel brewing system, a tasting facility, and a process wastewater treatment center on-site. Tours will be available to the public. Total cost projections are over $100 million.
"Today's announcement by New Belgium will enhance the craft brewery cluster that is growing in North Carolina," said Gov. Bev Perdue.  "The jobs and investment the company is committing will be a major boon for the region and for the state."
Construction is expected to begin in early 2013 with beer rolling off the line in early 2015. A full Asheville-specific press kit, a video statement from Kim Jordan and downloadable b-roll are available athttp://www.newbelgium.com/files/presskit.
About New Belgium Brewing Company
New Belgium Brewing Company, makers of Fat Tire Amber Ale and a host of Belgian-inspired beers, began operations in a tiny Fort Collins basement in 1991. Today, the third largest craft brewer in the U.S., New Belgium produces nine year-round beers; Fat Tire Amber Ale, Ranger IPA, Belgo IPA, Sunshine Wheat, Blue Paddle Pilsner, 1554 Black Ale, Abbey, Mothership Wit and Trippel, as well as a host of seasonal releases.  In addition to producing world-class beers, New Belgium takes pride in being a responsible corporate role model with progressive programs such as employee ownership, open book management and a commitment to environmental stewardship.  For more information, visit www.newbelgium.com.
Some notable tweets:
Crowds gathering. Drinking #newbelgium beer. #avlbeer img.ly/giMa

– Anne-Fitten Glenn (@Brewgasm) April 5, 2012
[email protected]newbelgium second brewery location checklist #avlbeer #ncbeer twitter.com/winbassett/sta…

– Win Bassett (@winbassett) April 5, 2012
Boom! RT @Ashevegas Julie from @bruisinales photo bombs me at big announcement. #avlnews #avlbeer #newbelgium twitter.com/Ashevegas/stat… – Bruisin' Ales (@bruisinales) April 5, 2012
Not messing around, @newbelgium. Three taps, cans, bottle display. twitpic.com/960vm7 #AVLbeer #ncbeer

– Bruisin' Ales (@bruisinales) April 5, 2012
It is one big Thirsty Thursday here at mystery Econ dev announcement at Avl chamber. #avlbeer #avlnews #newbelgium
– Bruisin' Ales (@bruisinales) April 5, 2012
Meet Trey, #Asheville's @newbelgium rep. Say welcome if you see him around. twitpic.com/960xi7 #AVLbeer #ncbeer

– Bruisin' Ales (@bruisinales) April 5, 2012
Looks like @NewBelgium will build a new 400k barrel brewery, slated to come online in 2015. (via @craftbizdaily).

– Brewbound (@Brewbound) April 5, 2012
Pouring @NewBelgium Shift, Ranger, Dig, Fat Tire at #avl announcement …Live all-female bluegrass band…waiting for it to begin #avlbeer – Win Bassett (@winbassett) April 5, 2012
Oscar Wong talking to Rep Patsy Keever at @newbelgium announcement. twitpic.com/960zud #avlbeer #ncgov #ncbeer

– Bruisin' Ales (@bruisinales) April 5, 2012