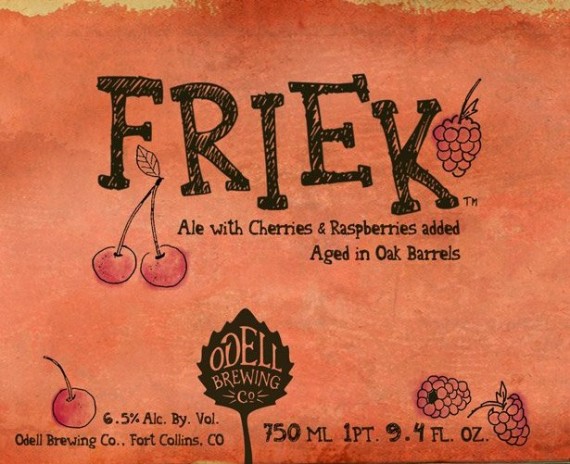 Odell Brewing Unleashes the Friek
Fort Collins, CO. — On October 24, 2011, Odell Brewing will celebrate the return of Friek, its Framboise/Kriek inspired sour ale and the Gold Medal winner for Wood and Barrel Aged Sour Beers at this year's Great American Beer Festival®.
"I think this beer best represents our collaborative culture," said Brendan McGivney, head of production at Odell Brewing. "I cannot think of a beer that had as many hands involved in the process as this one from raspberry picking and cherry squishing to yeast and bug propagation, barrel handling, and 750 ml bottling."
Friek, an adaptation of a Lambic style ale, is aged in oak barrels with cherries grown on Colorado's western slope and blended with raspberries hand-picked in Fort Collins, CO. The beer blends a slight cherry tartness with a fresh raspberry finish for a delightfully crisp and bright flavor. Wild yeasts, lactobacillus, and pediococcus create a sour element that enhances the fruit and evolves over time.
Bottled in 750 ml cork and cage finished Champagne style bottles, Friek will be available in limited quantities throughout the brewery's ten state distribution region.
Odell Brewing will celebrate the return of the beer and its recent medal with a "FRIEK OUT" bash in the brewery's tap room on October 29th. Guests are encouraged to don their Friekiest and enjoy samples of the beer, local food, and live music.
Founded in 1989, Odell Brewing was started by Doug Odell, his wife Wynne, and his sister Corkie. Twenty-one years later, the culture of family and collaboration still thrives fostering a brewery full of beer-centric people. It is this passion for beer that inspires Odell Brewing to create quality, hand-crafted, innovative brews. In 2010 the brewery completed its fourth expansion, adding a wood-aging cellar, a 750 ml bottling line, and a 76 kilowatt photovoltaic system capable of providing 25% of the brewery's peak energy demand. As a regional craft brewery, Odell Brewing is committed to serving the communities in which it distributes by sourcing local raw materials, and through its charitable giving program known as Odell Outreach. Odell Brewing was recently named a "Top Company of 2010" by ColoradoBiz Magazine and is an award winning brewery, nationally and internationally: 2011 Great American Beer Festival® – gold medal for Friek. 2010 North American Beer Awards — gold medal for Woodcut No. 3. 2009 BrewNZ Awards — gold for 5 Barrel Pale Ale. 2008 World Beer Cup® — gold for IPA. 2007 Great American
Beer Festival® — gold medal for IPA.