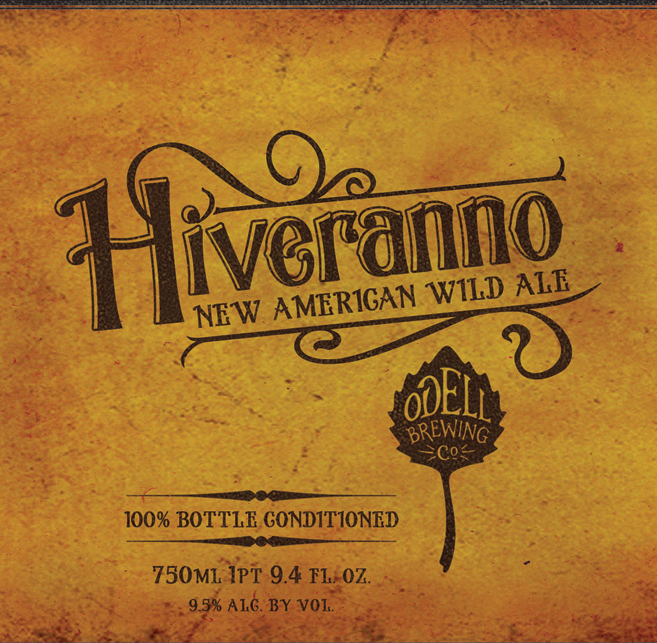 Odell Brewing is releasing a new wild ale during American Craft Beer Week. The beer is Hiveranno, named for a seasoned mountain man living off the land. In the wild. The brewers grew the yeast from wild strains found on the brewery grounds. Hiveranno is blended in various Odell barrels. And 100% bottle fermented. Headed to into the "wild" May 21, 2011. 750 ml bottles, corked & caged.
Press Release
Hiveranno, The New American Wild Ale
Odell Brewing releases new brew during American Craft Beer Week
Fort Collins, CO. — On May 21, 2011, Odell Brewing will release Hiveranno, the latest in its Single Serve series of offerings. A New American Wild ale, Hiveranno blends a traditional wild ale with bright American hop aromatics and soft oak tannins.
The Hiveranno was a seasoned Mountain Man, one who had lived many years off the land pioneering new ways to survive by exploiting available resources. Like the Hiveranno, our adventurous brewers drew on their knowledge of classic wild Belgian yeasts, and they captured and propagated their very own strain of wild yeast from the brewery grounds. This proprietary wild yeast, unique to the brewery, lends a slightly tart funkiness that is enhanced by the barrel aging process.
"The beer was blended with select barrels from our wood cellar," said Eli Kolodny, brewery QA/QC analyst. "These barrels have a unique in-house lineage that adds a subtle melon and grapefruit rind tartness to balance out the big aroma hops in the beer. Aging the beer will bring out more oak and wild yeast characteristics, while drinking fresh will allow the hops to shine."
Odell Brewing will celebrate the release of Hiveranno in the brewery's Tap Room on Saturday, May 21st during American Craft Beer Week. Beginning at 4:00 p.m., guests can enjoy samples of the beer as well as live music by Constitution.
To learn more about Hiveranno, visit the brewery's blog at http://odellbrewing.com/blog, or follow Odell Brewing on Facebook at http://www.facebook.com/OdellBrewingCo.
Founded in 1989, Odell Brewing was started by Doug Odell, his wife Wynne, and his sister Corkie. Twenty-one years later, the culture of family and collaboration still thrives fostering a brewery full of beer-centric people. It is this passion for beer that inspires Odell Brewing to create quality, hand-crafted, innovative brews. In 2010 the brewery completed its fourth expansion, adding a wood-aging cellar, a 750 ml bottling line, and a 76 kilowatt photovoltaic system capable of providing 25% of the brewery's peak energy demand. As a regional craft brewery, Odell Brewing is committed to serving the communities in which it distributes by sourcing local raw materials, and through its charitable giving program known as Odell Outreach. Odell Brewing was recently named a "Top Company of 2010" by ColoradoBiz Magazine and is an award winning brewery, nationally and internationally: 2010 North American Beer Awards — gold medal for Woodcut No. 3. 2009 BrewNZ Awards — gold for 5 Barrel Pale Ale. 2008 World Beer Cup® — gold for IPA. 2007 Great American Beer Festival® — gold medal for IPA.