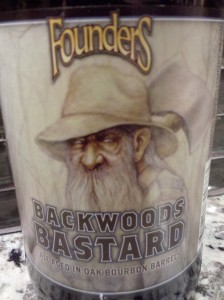 Founder's officially arrived in Georgia yesterday and if that wasn't enough to look forward to, now you have the first wave of taps.  Much to my excitement the first I have found is Backwoods Bastard!
If you are a fan of bourbon oak aged beers, look no further.   Especially if you enjoyed Red Brick 15 or if you were lucky, Brooklyn Black Ops.  Backwoods is a Scotch Ale/Wee Heavy much like their year round beer Dirty Bastard.  However, this scotch ale spent time in bourbon oak, changing it's character for the better.
Vanilla is my favorite flavor added to bourbon aged beers – and you will find it in abundance here.  Be on the look out for bourbon, oak, and dark cherry flavors in this one.  Caramel malts from the scotch ale round this one out.  It's a little boozy, some might find this one a sipper, but let me tell you – it's fantastic.
Backwoods Bastard is a limted seasonal release by Founder's Brewing.  Apart from draft offerings, it's sells in 12 oz. 4-packs – $12-$14 available now.
10.2% ABV
Where?  Brickstore Pub  When?  Right now!