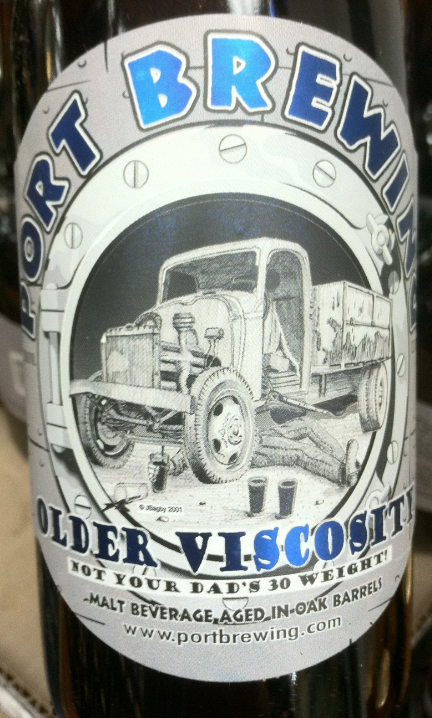 Barrel aged beer lovers, get your fix. Port Brewing's Older Viscosity has arrived.  You take Old Viscosity aka "Big Black Nasty" and throw it into bourbon barrels.   The beer blurs the lines on strong ale/porter/stout/barleywine etc.
Before you even get to "Older" lets check out Old Viscosity.   The big thick beer is a blend of 80% new Viscosity – a stainless steel fermented beer, and 20% from a previous batch that has been aging in bourbon barrels.  Older Viscosity is just straight barrel aged beer.
An enormously rich but satisfying beer, Older Viscosity is 100% straight no chaser barrel-aged Old Viscosity – the beer we blend in the production of Old Viscosity.  The color is black like asphalt and the aroma is an uncompromising malty nose with dark caramel and chocolate overtones.
Style: American Strong Ale (barrel aged)
Hops: German Magnum,
Malts — Two Row, Wheat, Domestic and English Crystal, Carafa III and Chocolate Malts
Yeast — White Labs California Ale and Proprietary Yeast Strains
Taste Expectations: Vanilla (bourbon), oak, chocolate, booze. Roasted malts.
Availability: 375ml bottles. No draft. Seasonal release, Spring. $14 retail.
12.5% ABV