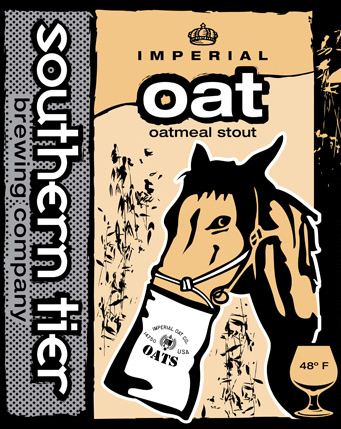 Just for clarification – this beer is new to Georgia, seasonal for those who have had Southern Tier longer.   Oat is arriving now, Southern Tier Brewing's (Lakewood, NY) fall/early winter seasonal.  Oat is a nice big beer for those craving cold weather warm ups.  Southern Tier has been wildly successful with their imperial stouts, especially the ones with the bold flavors – like Mokah, Jahva, and Creme Brulee.
Commercial Description:
This beer begins in spring when oat seeds are sown as soon as the soil can be worked. Meanwhile, select types of barley are planted with hopes that Mother Nature will be kind. Our brewers wait patiently until the legumes are mature and ready for the scythe. Upon delivery to the brewery, these ingredients are mixed together in the mash tun where they steep, creating a rich molasses-like liquid. Spicy hops are boiled with the thick brew, giving balance and complexity. Brewers yeast feasts upon the rich sugars, concluding its transformation into oatmeal stout. Pour Oat into a snifter, allow its thick tan head to slowly rise, releasing unbridled aromas. The color of Oat is as dark as a moonless night. The first sip reveals Oat's thick and nourishing taste. Like a haversack to a horse, a bottle of this stout is a meal in itself. Enjoy responsibly.
Style: Imperial Stout
Hops: Columbus, Willamette
Malts: 2 Row Pale, Oats, Caramel Malt, Barley flakes, chocolate malt, black malt
Taste Expectations: Oat is creamy, roasty & smooth.  Look for malty chocolate flavors, with sweet notes of molasses.  Subtle coffee notes. Oats make the mouthfeel silky.
Availability: 22oz bombers.  Limited draft offerings.  Fall harvest seasonal
11% ABV