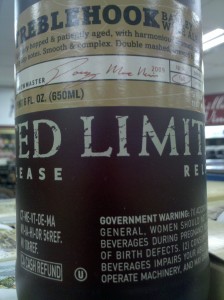 Lately I have been noticing that alongside the normal run of beers, and seasonal releases by various breweries, many are doing a limited beer release.   Whether an experiment or a small batch, these beers are popping up everywhere.  Redhook Brewery, out of Portsmouth New Hampshire just added another limited release.
Redhook's most recent limited release is  Barleywine and is the second edition in the limited series.   This barleywine is brewed with aromatic malts such as Pale, Caramel, Flaked Barley, Black, and Melenodin.  There is also a special extra aromatic malt concoction that is used.   Hops used are Cascade, Palisades, Chinook, and Simcoe.
This barleywine was first brewed in 2007.  In 2008 it won Gold in the 2008 Great American Beer Festival, and took Silver in 2009.  Want to hold on to it a while?  Recommended cellaring for Treblehook by Redhook is about 3 years.  Treblehook is 10.1% ABV.
Quoting Red Hook —
Boasting big aromatic malts, Redhook Treblehook pours a dark gold with a velvety mouthfeel and a slightly bitter finish. Brewed in the style of a traditional American barley wine with a 10.1% ABV and 57 IBUs, Treblehook sets itself apart by playing up the hops to add depth and complexity. Dry-hopped vigorously throughout the six-month process, Treblehook's strength comes from its ability to have a strong hop flavor while still allowing the malt characteristics to shine through.
Available at Hop City, Tower, Greens, and Total Wine.  22 oz bottle, around $10.00