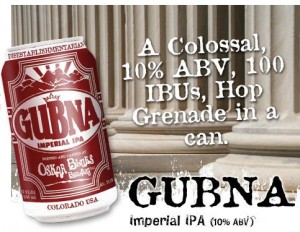 Oskar Blues Brewing from Lyons, Colorado is a craft brewer with a discerning trait.  All their brews come in cans.   Hopefully you've seen them.  Old Chub, Ten Fidy, Dale's Pale Ale.  All delicious craft brews, and all legal for consumption at the pool in the summer (no glass, lol.)  It's been a while, but a new can joins OB's lineup – Gubna.
Gubna is an Imperial IPA.  Don't let the fact it comes in a can fool you into thinking it's a weakling.  This imperial is a complex, fruity, slightly bitter 10% ABV.  Oskar Blues wanted to prove that a complex character can arise from simple elements.  Gubna is made with 3 malts, and 1 hop.  It is also post fermentation dry hopped.
Ingredients –
Hop – Summit  (Dry Hopped w/ Summit also)
Malts – German Dark Munich, Rye Malt, American 2 Row.
Tasting notes – Grapefruit & Citrus nose.   Taste is very complex.  Pine, Grapefruit, Citrus, spicy malts.
10%  ABV
100 IBU's  (Bitter)
Availability – March-November (Opposite the Imperial Stout release – Ten Fidy)  12 oz cans and draft offerings.
Arrival – Atlanta – March 31st/April 1st