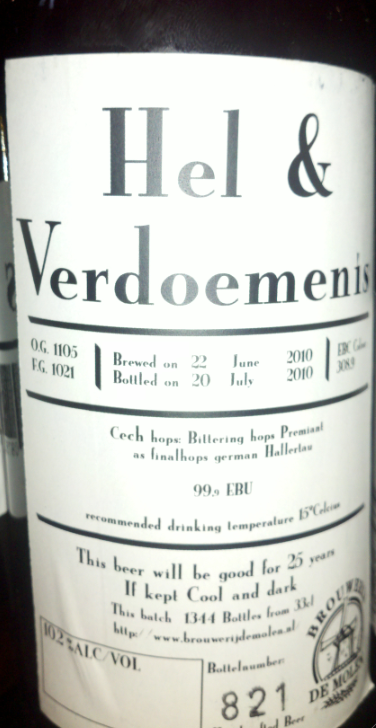 De Molen Brewing is based out of the western part of The Netherlands.  Their newest beer in the United States is called Hel & Verdoemenis.  Translated, it means Hell & Damnation.   This beer is one of 16 porters & stouts in De Molen's year round lineup.
Commercial Description:
Brewed with brown malts, an English traditional specialty malt, we created an Imperial Russian Stout that has won prizes at festivals across Europe from Sweden to Italy. It's big (10% ABV), black, roasted and complex. We are convinced that not trying this ale will be a mortal sin to your taste buds and beer experience.
Style: Imperial Stout
Hops: All Czech. Premiant, Bittering.  Hallertau, finishing.
Taste Expectations: Dark sweet roasty malts.  Hint of smoke.  Flavors of coffee, dark fruit, oak, burnt caramel. Smooth & creamy.
Availability: 12oz bottles.  Sold as single.  Retail $8-10.
10.2% ABV
Fun Fact:  De Molen states this beer can be cellared up to 25 years under proper conditions