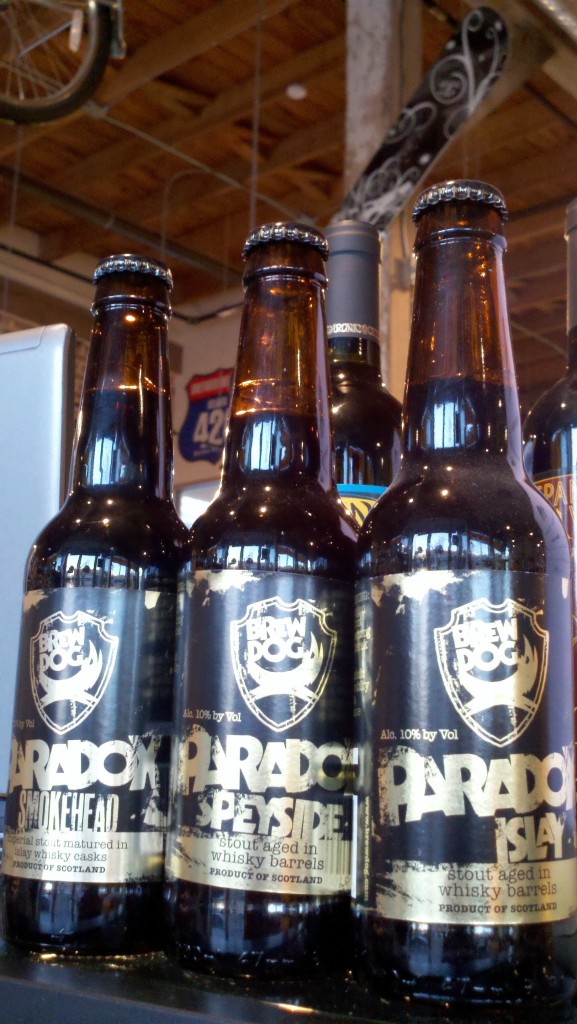 Joining BrewDog's (Glasgow, Scotland) Paradox imperial stout series is Smokehead.  Paradox is series of oak aged explorations, where the base stout is aged in different Scottish whiskey cask.  This stouts are bold, and complex.   They aren't for the faint of heart, or weak of palate.
Base Beer Rundown:
Style: Imperial Stout (barrel)
Hops: Galena, Bramling Cross
Malts: Marris Otter, Dark Crystal, Caramalt, Chocolate Malt, Roast Barley
Paradox Variations:
Islay – Paradox aged Islay Whiskey cask.  Distilled on Islay Island.  Peated malt is used, where peat (decayed vegetation from a peat swamp) is burned to smoke the malt.
Speyside – Paradox in casks from Speyside area of Scotland.  Also uses smoke malts.
Smokehead – Just re-released. Has been retired for a while. Even smokier.  Ian Macleod Distiller's Single Islay malt Whisky – Smokehead casks.
Availability: Each edition is available in 12 oz singles. Retail $10
10% ABV