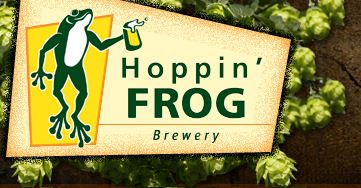 UPDATE – 4/23 – No more production issues.  Expected on shelves today.
In a matter of days, Atlanta will see beers from a new brewery.  Hoppin' Frog Brewing from Akron, Ohio.
Hoppin' Frog was founded by Fred Karm, who has been craft brewing since 1994.  A graduate of the University of Akron, brewing was a dream made a reality.  A reality that has won Karm more awards than any other Ohio brewer since 2000. Hoppin' Frog boasts a JV Northwest brewing system to produce its delicious lineup.  JV Northwest is based out of Oregon, and is a specialty maker of stunning, handcrafted tanks designed individually for each brewer's specifications.  Hoppin' also has a special bottling line Fred Karm procured to keep beer fresher, longer.  Attention to intricate detail is a key focus with Hoppin' Frog.
So what do I expect?
I don't have a definitive line up of launch beers… yet.  This is a TENTATIVE list of the launch lineup.
Hop Dam – Imperial IPA, 10% ABV.  Big citrus/piney IPA here.  You like lots of hops and bitter? HOP DAM! Seasonal release.
Outta Kilter Wee Heavy Scotch Red — Scotch Ale, 8.2 ABV.  Malt forward red ale w/ caramel malts.  A touch of Rye is added for more character.  A great wee-heavy.
B.O.R.I.S. The Crusher  Oatmeal Imperial Stout — Russian Imperial,  9.4% ABV.  Boris is big on oatmeal, masking the near 10% alcohol. If you're an imperial stout fan, get your taste buds ready.  2008 GABF Gold Medal Winner.
Silk Porter — Porter, 6.2% ABV.  Smooth palette. Robust.  Toasted and caramel malts.  Porter is rich is history.  Do some reading! While having a Silk of course.
Mean Manalishi Double — Imperial IPA, 8.2% ABV.  Manalishi is an assertive DIPA, with lots of hops, and caramels, toasted malts, and great hoppy aroma to start you off.  100+ IBU??
Hoppin' Frog is distributed by Carlaken Wholesale in Atlanta.  Frog's beers have officially been approved and are maybe 7 days away from hitting the shelf.  Hoppin' Frog popularity is growing fast, but they are still a very small brewery with no pub, or tasting room.  More on this launch soon.
Welcome to Georgia Hoppin' Frog!
Check out JV Northwest Brewing Systems –  www.jvnw.com