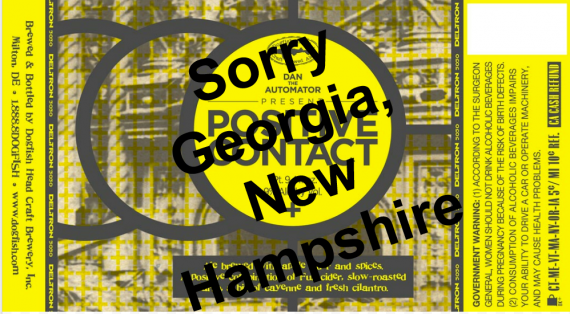 Georgia and New Hampshire will NOT receive Dogfish Head's newest collaboration Positive Contact.  The Delaware based brewery has stated that New Hampshire and Georgia will be unable to sell the box sets thanks to some legal entanglements.
Positive Contact is not able to be approved in New Hampshire. The box sets are also not able to be sold in Georgia. We are still waiting on (with crossed fingers) approvals from CT, IL, NC, and TX. We are hopeful those four states will come through with an approval and we are holding beer for wholesalers in those four markets. If approvals come through in the next month or so, we will send Positive Contact to those four states.
Don't be upset with DFH.  Call your state legislature. Find out why their state's piss poor excuse for beer laws are keeping you from having this beer.