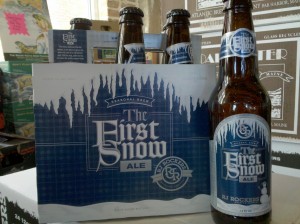 New from RJ Rocker's out of Spartanburg, South Carolina is First Snow Ale.   This is first offering of this winter ale by the brewer.
First Snow is a pale ale, (Pale ale is a major beer style brewed with Pale malts) that weighs in at 6% ABV.   In addition to the pale malts, honey and "every spice in the cabinet thrown in."
Described as the winter version of RJ's  popular Patriot Pale Ale, with different hop varieties.
Available now in Atlanta.
Tasting notes to follow…