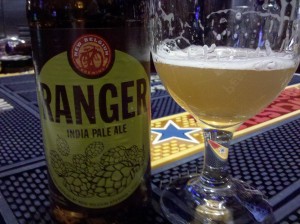 The makers of beers such as the beloved Fat Tire and La Folie comes a year round IPA – Ranger IPA.
Ranger IPA marks the first year round IPA offering to hit bottles by New Beligium, and the most recent IPA addition to Atlanta.  The term "Ranger" refers to the folks from New Belgium out in the field.  They ensure New Belgium's beers are flowing in their markets in 26 states.  After begging and pleading for a hoppy beer – they got their way.
Ranger is a nice and hoppy, yet very drinkable.   Lots of citrus and floral hop flavors in this IPA.  Here is your profile rundown –
Hops – Cascade, Chinook, and Simcoe.  Dry hopped w/ Simcoe.
Malts – Pale, and Caramel
70 IBU's (International Bittering Units. The higher the #, the more bitter)
6.5% ABV
Available year round.  12 oz. 6 pks/ Draft.
Currently in stock at Hop City, 8.99.  Now tapping at most Taco Mac's and soon Brickstore Pub.
Other sightings to follow.