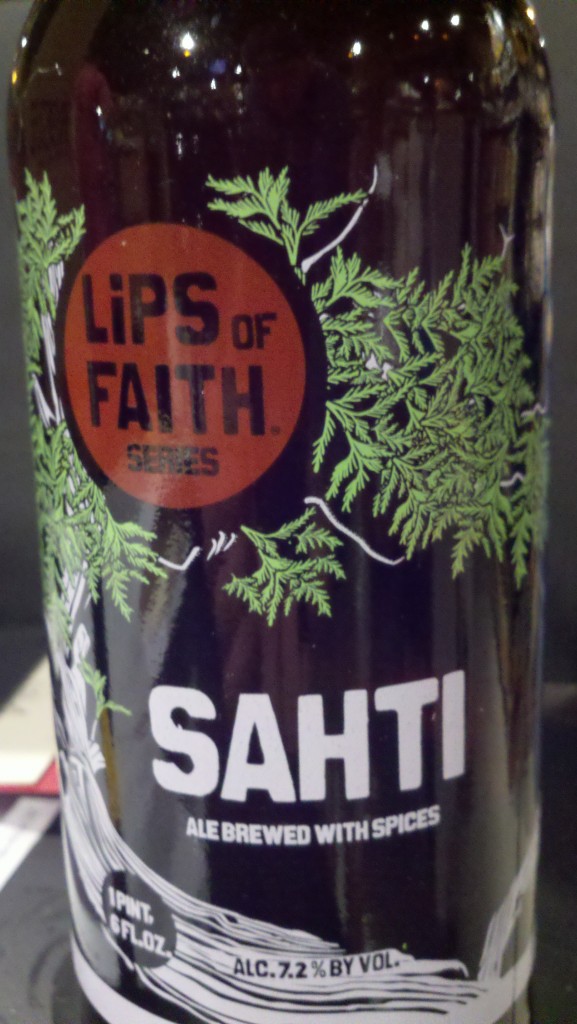 The latest in New Belgium's "Lips of Faith" series has arrived. "Sahti" uses a variety of common beer grains ( rye, oat, barley — malted and unmalted, and wheat.) In traditional brewings, Sahti is flavored with juniper berries. Unlike many American ales, Sahti has fewer hops, in some instances none — focusing on the berry flavor.
Commercial Description:
Inspired by Finnish Sahti, a traditional rye ale brewed with juniper, our sahti Ale is a hazy amber ale with a sturdy mouthfeel and a crisp and lively "finnish". Brewed with Pale, Crystal, rye malts and whole oats, our version bittered with Cascade and finished with Cascade and Amarillo hops. Juniper boughs are added to the mash and juniper berries, orange and lemon peel are pitched in the whirlpool creating a festive olfactory of citrus and juniper notes.
Style: Sahti (based on style evolved in Finland)
Taste Expectations: Juniper berries in nose & flavor.  Some honey.   The hops are lightly spice.  Overall the beer is unique, vegetal, with a twinge of tart.  Malts are light & caramel.
Availability: 22oz bombers.  Limited draft. One time brew. (Currently)
7.2% ABV