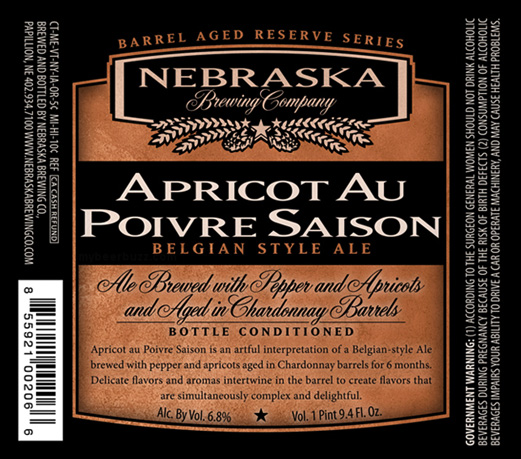 Nebraska Brewing only brews their Barrel Aged Apricot au Poivre Saison from their Reserve Series one small batch at a time and have less of it to release than the rest of the series.  This rare brew will be released to the public next week on 12/8 and will be shipped to distributors at the same time.  If you're in the area, Nebraska Brewing will also have samples of Apricot au Poivre Saison available at the release party in the brewpub at 6pm.
Also, just to put the icing on the cake, Nebraska will also be releasing their Barrel Aged Russian Imperial Stout, Black Betty on the very same night.
Four of the five Reserve Series beers will be available for purchase before Christmas:  Fathead Barleywine, Barrel Aged Hop God, Barrel Aged Apricot au Poivre Saison, and Black Betty.  Melange a Trois will not be available for stocking stuffers this year.