Topic Archives:
Nebraska Reserve Series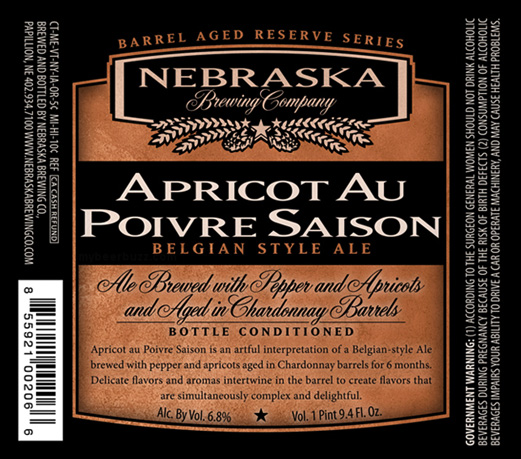 Nebraska Brewing only brews their Barrel Aged Apricot au Poivre Saison from their Reserve Series one small batch at a time and have less of it to release than the rest of the series.  This rare brew will be released to the public next week on 12/8 and will be shipped to distributors at the same time.  If you're in the area, Nebraska Brewing will also have samples of Apricot au Poivre Saison available at the release party in the brewpub at 6pm.
Also, just to put the icing on the cake, Nebraska will also be releasing their Barrel Aged Russian Imperial Stout, Black Betty on the very same night.
Four of the five Reserve Series beers will be available for purchase before Christmas:  Fathead Barleywine, Barrel Aged Hop God, Barrel Aged Apricot au Poivre Saison, and Black Betty.  Melange a Trois will not be available for stocking stuffers this year.
Nebraska Brewing's Black Betty makes a reappearance on October 27, 2011.  Aged in Stranahan's whiskey, soon to be hard to come by.
Black as night and every bit Imperial, this RIS was originally launched to tremendous accolades. Going further, this Stranahan's Whiskey barrel aged version meshes the rich chocolates, the coffee-like aromatics with the sweet whiskey nose and drying character of the oak. Slightly behind on the palette are the hops — held in restraint by the wonderfully full mouthfeel and broad flavors brought on by the perfect blend of so many malted barley varieties. 
Style: Imperial Stout (barrel aged)
Taste Expectations: Vanilla, dark fruits, oak.  Chocolate & coffee.
Availability: 750 ml bottles. Draft.
9% ABV
Checking in on Nebraska Brewing:
The first batch of the season – Wick For Brains Pumpkin Ale has all but sold out at the brewpub.  More is on the way.   Wick is an amber ale based beer, brewed with pumpkin & spices.
The next Reserve Series brews will be released simultaneously.   The brewery brags they are the best they've made to date.  They are:
Fathead: was aged in barrels that had already been used by Black Betty in an attempt to take the alcohol bite down just a notch or 2 – and it worked fantastically.  We're still completely amazed and extremely pleased – these will launch and be gone in an instant.
BA Hop God: Is a Belgian IPA with some barrel aging.
Release dates to be announced soon…