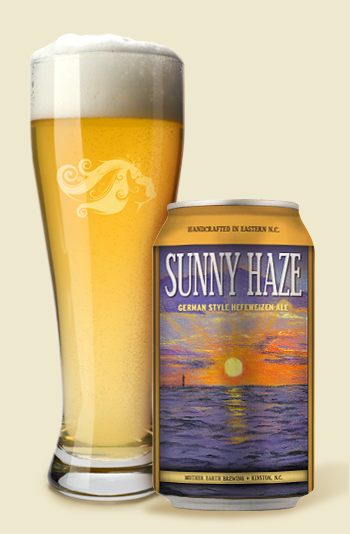 Mother Earth  Sunny Haze.  A canned offering from the Kingston, NC brewery.
Sunny Haze will brighten even your finest day. "Hefe" means "with yeast" so expect to find our hefeweizen cloudy in appearance due to its unfiltered status. Fruity hints and slight spiciness of this hefeweizen will mingle in your mouth, creating a crispness that's as energizing as the sun itself. Banana and clove-like aromas add interest and depth to an already impressively well balanced brew. There's no doubt; it's meant to be a Sunny Haze kind of day.
Style: Hefeweizen
Availability: 12 oz cans
Food Pairings: Great with Lighter Foods: salads, seafood, sushi, classic with weisswurst. Goat Cheese, Strawberry Shortcake and Key Lime Pie.
5% ABV