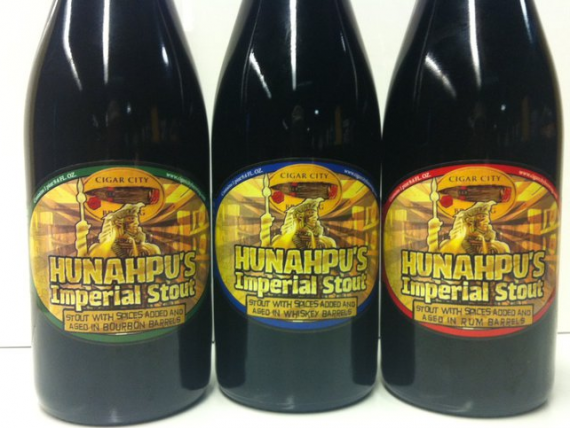 BSJ will be on site on Saturday covering Barrel Aged Hunahpu day.
Cigar City has posted a couple of updates surrounding the big day:
In the previous blog entry we talked about all the details for the upcoming BA Hunahpu's Release this Saturday. A few updates/corrections:
– We said we'll release Humidor Series Imperial Stout if the labels came through. Well, they didn't come through, so we'll have to push that bottle release back to another date! Sorry everyone.
– The 4th line (or "Black" line, as you will come to know it on Saturday) will feature sales of Virgin Oak Hunahpu's growlers as well as bottles of Rum barrel-aged Big Sound and Bourbon barrel-aged Big Sound. You can buy all three of them at the same time, only one bottle per beer, though.
– Because that's not going to be bottled, we won't keg it either to avoid taking up too much bright tank space, so we're also not going to have it on tap. However, in its place in the tasting room will be Virgin Oak Barrel-aged Hunahpu's, being tapped at 11am with all the other special beers.
– There will be no tours during the event. It's just going to be way too hectic in there, and everyone on staff will be very busy.
– There are considerably less growlers available of Virgin Hunahpu's than bottles of Rum or Bourbon Hunahpu's.
– We won't have wristbands or bracelets or anything, but we will have a numbering system to be revealed the day of the release. We're trying to make this as fair as possible for everyone!
– There will be no growler fills in the tasting room of any kind from 11am – 4pm. The reason is because it will simply be mayhem for the bartenders just to pour drinks and filling growlers take up a lot of time. If you're looking to get growlers for football games, tailgating, etc., we advise you come Friday night to get them filled. We apologize if that causes any inconvenience!