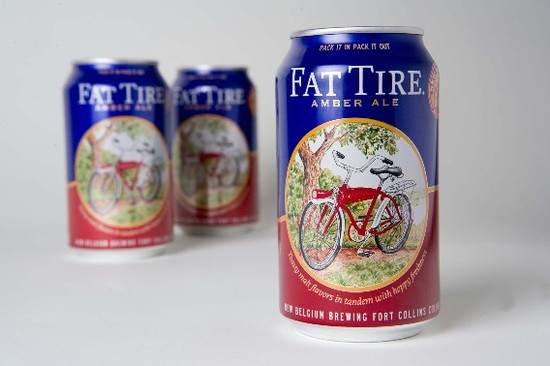 A press release from New Belgium Brewing this AM announces the addition of a larger canning line.  Fat Tire among others is already in cans, but this addition can put it and other can offerings in markets not currently receiving New Belgium cans. This canning line expansion will increase canning capacity 6-fold!
PRESS RELEASE
Ft. Collins, CO — July 7, 2011 — New Belgium Brewing is pleased to announce it is breaking ground on a 16,000 sq. foot can line addition to its bottling hall. The new system, manufactured by KHS, will increase New Belgium's canning volume capacity six fold.
"Cans have been a great addition to the packaging portfolio for us," said New Belgium spokesperson, Bryan Simpson. "We first introduced Fat Tire cans in 2008 and we've since added Sunshine Wheat and Ranger IPA. Sales have been ahead of projection and we're fortunate to be able to accommodate demand."
New Belgium's current can line features a 9-head filler with a capacity of 60 cans per minute while the new system will feature a 40-head filler capable of filling 360 cans per minute. The system can package both 12-oz and 16-oz cans.
The addition itself will be constructed just east of New Belgium's current bottling facility on the brewery's fifty-acre campus in Fort Collins, CO. The building process should run through the end of the year with first beer off the line some time in January. Neenan Company of Fort Collins is contracted for construction.
About New Belgium Brewing Company
New Belgium Brewing Company, makers of Fat Tire Amber Ale and a host of Belgian-inspired beers, began operations in a tiny Fort Collins basement in 1991. Today, the third largest craft brewer in the U.S., New Belgium produces eight year-round beers; Fat Tire Amber Ale, Ranger IPA, Sunshine Wheat, Blue Paddle Pilsner, 1554 Black Ale, Abbey, Mothership Wit and Trippel, as well as a host of seasonal releases.  In addition to producing world-class beers, New Belgium takes pride in being a responsible corporate role model with progressive programs such as employee ownership, open book management and a commitment to environmental stewardship.  For more information, visit www.newbelgium.com.